August 21, 2020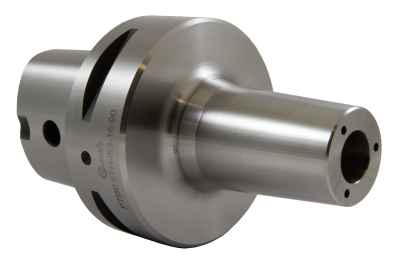 Accutek Inc. is expanding their AccuGrip Shrink Fit tool holder product offering with the new AccuKool coolant port holes through the body of the shrink fit holder. Specially designed coolant holes that are central to the body diameter and ID diameter to maintain the thickest and strongest body design for superior grip strength with coolant flow directly targeted at the "vortex" intersection for maximum coolant follow to and through the cutting flutes. Their hole size, design, and angle are critical to the exact placement of coolant into the centrifugal "vortex" created by rotational RPM of cutting tool to minimize the negative impact of centrifugal air flow created by the spinning tool. Improved coolant flow improves tool life, part finish, and overall productivity.
Related Glossary Terms
coolant


coolant

Fluid that reduces temperature buildup at the tool/workpiece interface during machining. Normally takes the form of a liquid such as soluble or chemical mixtures (semisynthetic, synthetic) but can be pressurized air or other gas. Because of water's ability to absorb great quantities of heat, it is widely used as a coolant and vehicle for various cutting compounds, with the water-to-compound ratio varying with the machining task. See cutting fluid; semisynthetic cutting fluid; soluble-oil cutting fluid; synthetic cutting fluid.

flutes


flutes

Grooves and spaces in the body of a tool that permit chip removal from, and cutting-fluid application to, the point of cut.

inner diameter ( ID)


inner diameter ( ID)

Dimension that defines the inside diameter of a cavity or hole. See OD, outer diameter.