April 23, 2022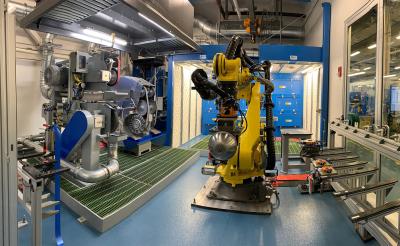 Saint-Gobain Abrasives, one of the world's largest abrasives manufacturers, has introduced its new Norton Abrasive Process Solutions (APS) Program which was established to help customers determine the optimal grinding or finishing solution for the application at hand, ranging from simple to complex, off-hand or automated, and for metal fabrication, production grinding and virtually any abrasives operation. The APS Program draws upon the vast knowledge of the Norton team along with access to 30 different machines, and a new state-of-the-art APS Robotic Automation Cell, which is at the core of the new APS Program located at the Higgins Grinding Technology Center in Northborough, Massachusetts (U.S.A.). The APS team provides abrasive process development, optimization, automation and in-house testing. APS services encompass the testing and optimization of new abrasives, improving quality and/ or throughput, and trying entirely new and customized processes.
The new APS Program is positioned to be an extension of the customer, where tests can be conducted so that customers do not have to re-assign limited in-house resources and pause their own production. "At a time when North American manufacturers need to deliver high-quality products faster, while stressed with labor shortages, we are thrilled to announce the new APS Program which can relieve some of their burden," said Tony Landes, APS Lead, Norton | Saint-Gobain Abrasives. "The APS Program is uniquely setup to deliver a comprehensive array of services, including a quick response and short turnaround. The APS team can provide the broadest array of grinding and finishing process development solutions for any type of abrasive."
The APS Automation Cell is capable of delivering abrasive-to-part and part-to-abrasive applications, wet/ dry processing and uses a full range of abrasives such as coated, non-woven, thin wheel, bonded and superabrasives. Equipped with a verified turnkey solution, manufacturers can then contact an automation system integrator to implement the solution. This avoids costly trial and error at the integrator level.
About the Robotic Technology
The automation cell features an industrial robot with a 210-kg load capacity that allows the APS team to perform processes using nearly any size part or tool. The force sensor-capable robot performs in a multi-capacity role, meaning it is fitted with an end-of-arm gripper to allow for part-to-media processing, as well as tool changers that use traditional hand tools to perform abrasive-to-part processing.
An integrated robotic-centered process development system includes a programmable pivot table, 6-inch-deep coolant pans, abrasive tools, toolholders and radial compliant devices. Spindle motors and compliance slides as well as two heavy-duty grinding heads which have a 15 and 40 hp motor, respectively, are also in the mix. A programmable pivot head with dual belt and wheel is also offered. Belts, cut-off wheels, and grinding wheels for example, can all be accommodated on the stacked head for part-to-media applications that require heavy pressure such as casting cut-off and gate grinding. A side-by-side spindle head can use two belts and up to four radial wheels, which can produce high surface finishes by buffing or using filament brushes.