September 20, 2018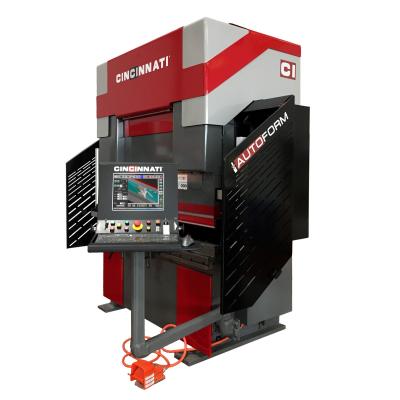 Cincinnati Inc. (CI) has introduced its newly enhanced 60-ton Autoform hydraulic press brake. This next iteration of the 60-ton Autoform is the company's first compact hydraulic machine available with a 6-axis backgage and a full 6-foot long bed length.
"Many fabricators now realize the benefits of routing smaller parts to compact machines to free up traditionally-sized machines for larger and heavier components," said Todd Kirchoff, manager of vertical motion products for CI. "The small footprint of the hydraulic Autoform complements our line of compact electric press brakes and allows for more efficient production of smaller parts." The base dimensions are 83" wide x 48" deep. The machine includes a swinging pendent control that can be positioned in front or at the side.
Key features of the new Autoform include exceptional ram repeatability (±0.0004"), longer stroke length (11") and fast forming speeds (programmable from 1 to 120 ipm). The available six-axis backgage gives it the ability to excel at fabricating small, complex parts with greater throughput than a larger machine.
The Autoform also incorporates many of the same advanced features introduced on the company's electric Goform press brake, including the innovative Angle Measuring technology. This feature automates the manual method of measuring and adjusting bend angles. During production, a high-speed digital camera, mounted to the machine, captures images of the bend. The images are analyzed and the press is commanded to continue bending until the part is within the desired tolerance.
The operator interface, key for this feature, was developed in-house by Cincinnati software engineers. Feedback from Cincinnati users resulted in a unique interface that is easy to use. With this system, inexperienced operators can produce quality parts with minimal instruction.
The 3D control graphics and available 6-axis backgage make the 60-ton Autoform suitable for forming the complex shapes often created with advanced solid model design software. The Autoform is also easy on operators due to its compact ergonomic design. The machine's controls can be reached with minimal movement. A sleek, modern look completes the package.
Related Glossary Terms
solid model


solid model

3-D model created using "building blocks." This is the most accurate way of representing real-world objects in CAD.

tolerance


tolerance

Minimum and maximum amount a workpiece dimension is allowed to vary from a set standard and still be acceptable.