November 08, 2018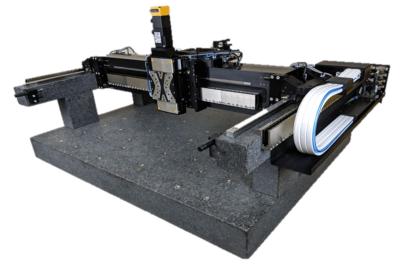 PI's new A-341 hybrid gantry XY/XYZ positioning stage provides the framework for controlled precise overhead motion that is often sought after for 3D printing, assembly, pick-and-place, alignment, inspection and industrial automation applications. The A-341 HGS hybrid gantry is designed to combine maximum throughput with smooth and highly accurate motion in a compact envelope.
PI's novel gantry features a unique hybrid bearing design. The cross axis utilizes a frictionless air bearing guiding system, which allows for excellent velocity control, repeatability, straightness, and cleanliness. The lower dual-motor axis uses precision mechanical linear bearings for rigidity and reduced size. This combination of bearing technologies offers an overhead gantry motion platform optimized for step and scan applications in the smallest possible form factor. Absolute measuring encoders render homing procedures unnecessary and ironless linear motors eliminate cogging, providing smoother motion without vibration and better velocity control.
An optional vertical axis (Z-stage) with either ballscrew drive or linear motor and pneumatic counterbalance can be integrated with the gantry cross axis.
Features of the hybrid stages include:
300x300 to 500x1000mm XY travel
Absolute encoders, 1nm resolution
Z-Stage options: linear motors or ball screws
Dynamic error mapping
2m/sec max velocity (cross axis)
Cable carrier option, e-chain
Water cooling option for high acceleration / high duty cycle applications
The HGS Gantry is coupled with industry-leading ACS controls and drives that offer superior servo performance, advanced control algorithms to improve dynamic performance and error compensation specifically for gantries, and a wide suite of software development tools.
Related Glossary Terms
linear motor


linear motor

Functionally the same as a rotary motor in a machine tool, a linear motor can be thought of as a standard permanent-magnet, rotary-style motor slit axially to the center and then peeled back and laid flat. The major advantage of using a linear motor to drive the axis motion is that it eliminates the inefficiency and mechanical variance caused by the ballscrew assembly system used in most CNC machines.