September 26, 2018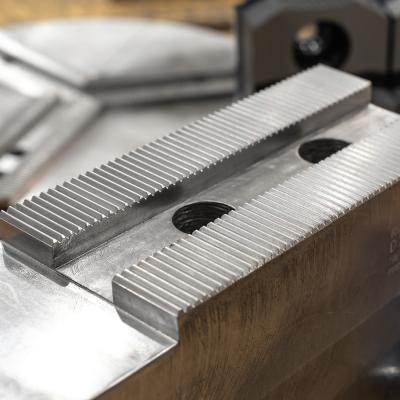 A major manufacturing facilities upgrade enables Dillon Chuck Jaws to add the manufacturing of 2mm x 60° and 2.5mm x 60° serrations for hard to find top jaws, hard jaws and full-grip jaws that fit the corresponding chuck master jaws of the same hard to locate pitch. They now have the capability to manufacture virtually any serration, including 1.5mm x60°, 2mm x 60°, 2.5mm x60°, 3mm x 60°, 1/16th x 90° and 3/32 x 90°.
The company's workholding products are well known and highly respected throughout the industry for clean, high quality, made in America chuck jaws. These recently added capabilities further extend their abilities to ensure that customer receive the appropriate workholding products for their specific applications.
Related Glossary Terms
chuck


chuck

Workholding device that affixes to a mill, lathe or drill-press spindle. It holds a tool or workpiece by one end, allowing it to be rotated. May also be fitted to the machine table to hold a workpiece. Two or more adjustable jaws actually hold the tool or part. May be actuated manually, pneumatically, hydraulically or electrically. See collet.

pitch


pitch

1. On a saw blade, the number of teeth per inch. 2. In threading, the number of threads per inch.