February 27, 2020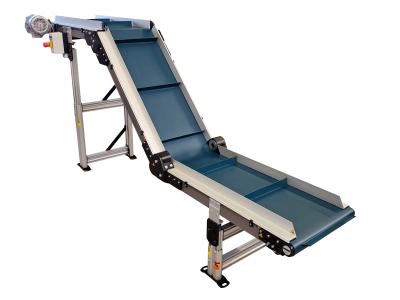 Dorner Europe is expanding its presence throughout the region by adding the 2200 Series LPZ (Low Profile Z-Frame) conveyor to its lineup of conveyor platforms being manufactured from its Jülich, Germany, location.
The advantage of the 2200 Series LPZ is that its sleek, narrow profile allows it to be positioned under machinery where other conveyors wouldn't fit, making it ideal for part removal and product handling in packaging, metalworking, automation, medical, pharmaceutical and other general manufacturing applications. Additionally, the 2200 LPZ is an ergonomically sound platform and built with features to enhance employee safety.
The 2200 Series LPZ is the latest conveyor platform being manufactured at Dorner Europe. In 2018, Dorner Europe began production of the 2200 Series from its Jülich, Germany, location, which boasts more than 2,100 sq. m of production space. The move to manufacture the 2200 Series LPZ enables customers throughout Europe and the Middle East to take delivery of their equipment faster than ever before.
Features and benefits of the 2200 Series LPZ conveyor include:
Sturdy, single-piece frame design
V-guided belts for accurate belt tracking
Durable, hard anodized frame
Universal T-slots fit industry-standard hardware
Adjustable guiding with new modern design and reliable clamp method
Cleated and flat belt options
Performance specifications of the 2200 Series LPZ conveyor:
Loads up to 66 lbs. (30 kg)
Belt speeds up to 187 feet per minute (57 m/min.)
Belt widths: 8" (203 mm) to 24" (610 mm)
Conveyor lengths: 43.2" (1,097 mm) to 13.1 feet (4,000 mm)
Provides positive belt tracking, even under demanding side load applications
Rack and pinion belt tensioning
Customers can also design their 2200 Series LPZ conveyors using D-Tools, Dorner's online conveyor configurator. D-Tools is intended to help users select, design, configure and view conveyors in an intuitive 2D and 3D CAD platform. Dorner's 2200 Series LPZ conveyors will be available in D-Tools in German, Spanish and English languages; currencies will be Euros, U.S. dollars and Malaysian ringgit.
Related Glossary Terms
computer-aided design ( CAD)


computer-aided design ( CAD)

Product-design functions performed with the help of computers and special software.

flat ( screw flat)


flat ( screw flat)

Flat surface machined into the shank of a cutting tool for enhanced holding of the tool.

metalworking


metalworking

Any manufacturing process in which metal is processed or machined such that the workpiece is given a new shape. Broadly defined, the term includes processes such as design and layout, heat-treating, material handling and inspection.