June 14, 2016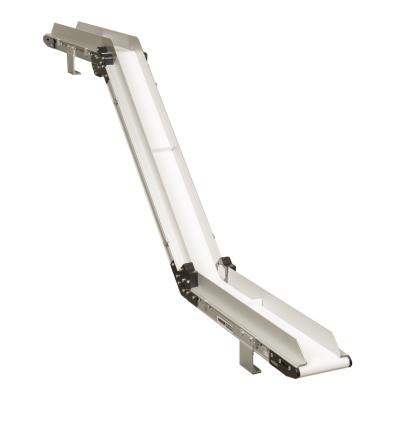 Dorner's new 2200 LPZ/Z-Frame conveyor comes with one or two pivot points and features an extremely low profile to fit under machinery or any other tight spots. The 2200 LPZ is Dorner's lowest profile Z-Frame conveyor and the first such offering in the newly redesigned 2200 series platform. The advantage of the 2200 LPZ is that its sleek, narrow profile enables it to be positioned under machinery where other conveyors wouldn't fit, making it ideal for part removal and product handling in packaging, metalworking, automation, medical, pharmaceutical and other general manufacturing applications. The pivot points on the conveyor provide added flexibility as it can be configured in either Z-frame, horizontal-to-incline and nose-over positions.
The 2200 LPZ is the second of four new platforms being introduced as part of Dorner's newly redesigned 2200 series platform. In April, Dorner relaunched the original 2200 series to include new features such as a redesigned frame, additional belting and expanded guiding to make the platform stronger, faster and more flexible for handling small to medium size part applications. The third and fourth conveyors in the redesigned 2200 series are expected to launch later this year.
Features and benefits of the 2200 series LPZ conveyor include:
• Sturdy, single-piece frame design
• V-guided belts for accurate belt tracking
• Improved bedplate durability with hard anodized frame coating
• Universal T-slots fit industry-standard hardware
• Adjustable guiding with new modern design and improved clamp method
• Optional 5/8" high speed nose bar transfer tail with speeds up to 200 feet per minute
• Cleated and flat belt options
• New guide accessories
Performance specifications of the 2200 series LPZ conveyor:
• Loads up to 80 lbs (36 kg)
• Belt speeds up to 250 feet per minute (76 m/min)
• Belt widths: 1.75" (44 mm) to 24" (610 mm)
• Conveyor lengths: 24" (610 mm) to 18' (5,486 mm)
• Fixed angle: 5°, 10°, 15° and 20° (flat belt); 30°, 45°, 60° (cleated)
• 1.25" (32 mm) diameter drive and idler pulleys turn about 4.2" (107 mm) of belt per revolution
• V-groove bedplate with guided belt provides positive belt tracking, even under demanding side load applications
Related Glossary Terms
flat ( screw flat)


flat ( screw flat)

Flat surface machined into the shank of a cutting tool for enhanced holding of the tool.

metalworking


metalworking

Any manufacturing process in which metal is processed or machined such that the workpiece is given a new shape. Broadly defined, the term includes processes such as design and layout, heat-treating, material handling and inspection.