February 20, 2018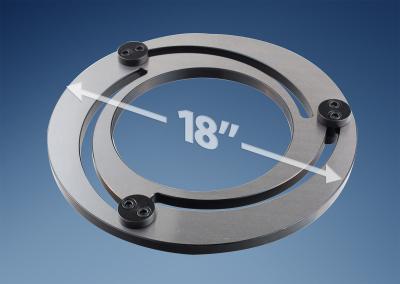 Dillon Chuck Jaws introduces an 18"-dia. boring ring. Its relatively light weight allows customers the same ease boring out 18"-dia. blank top jaws as is had when forming smaller diameters using the smaller boring rings.
Dillon jaw boring rings are easy-to-use tools that allow soft jaws to be machined precisely and thus grip the intended workpiece more firmly. These jaw rings provide uniform pressure on all jaws, for a consistent bore. Available in adjustable or chuck-diameter-specific styles, both with no-tools attachment. The Dillon jaw boring ring compensates for "jaw lift," even in worn chucks, which results in better parts concentricity. Use of this device will provide a jaw surface true to the machine centerline, reduce setup times, and increase up-times for running machined parts.
Jaw boring rings are available for 5", 6", 8", 10", 12",15" and 18" chucks, or in adjustable versions for 5"-8", 6"-10" and 8"-12" chucks. Self-centering action provides equal pressure on all jaws.
Related Glossary Terms
boring


boring

Enlarging a hole that already has been drilled or cored. Generally, it is an operation of truing the previously drilled hole with a single-point, lathe-type tool. Boring is essentially internal turning, in that usually a single-point cutting tool forms the internal shape. Some tools are available with two cutting edges to balance cutting forces.

chuck


chuck

Workholding device that affixes to a mill, lathe or drill-press spindle. It holds a tool or workpiece by one end, allowing it to be rotated. May also be fitted to the machine table to hold a workpiece. Two or more adjustable jaws actually hold the tool or part. May be actuated manually, pneumatically, hydraulically or electrically. See collet.