April 01,2014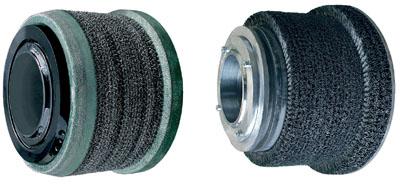 Osborn announces its new 114-knot cutback brush. Used for angled removal of three or more layers of coating from pipe ends, the new brushes incorporate heavy-duty features. Osborn worked with leading machine manufacturers to develop the 114-knot cutback to make removal of pipe coating quicker and more cost effective. This special brush completes the three steps in the process of standard coating removal simultaneously. The brush cleans the pipe edge, removes the pipe coating and grinds the coating angle, all at one time.
"Osborn wanted to solve a common issue in pipeline construction: preparing the coated pipes for welding. The ½-inch thick coating has to be removed from the pipe end and leave an angle so that when welded together the pipe can be properly recoated to prevent corrosion," said Jeff Naymik, marketing manager at Osborn. "This special brush makes that long process much quicker and efficient."
Previously available only from suppliers in Europe, the cutback brush features a larger diameter and more knots than any brush currently produced in North America. The 114-knot brush is made with ultra-high-density, AB wire for heavy-duty applications such as pipe coating removal. The brush is available in custom arbor hole/keyway dimensions.
Related Glossary Terms
arbor


arbor

Shaft used for rotary support in machining applications. In grinding, the spindle for mounting the wheel; in milling and other cutting operations, the shaft for mounting the cutter.