Published Date
May 26, 2021 - 11:45:am
By Tomorrow's System Sp. z o.o.
Opt Lasers Brand
PLH3D-15W - World's First Three-Laser-Diode Engraving Laser Head
The newest addition to our family of industrial cutting and engraving laser heads is arguably the most versatile engraving laser on the CNC market. Boasting a real 15 W of optical power as well as a novel design, this is the first compact CNC laser head that not only marks metal, but deep-engraves it. Utilizing blue laser light, it can efficiently process materials that infrared lasers struggle with. Furthermore, it can be adapted to nearly any CNC machine. This lightweight, high power, cost-efficient, and easy to use laser is an ideal choice for high-volume industrial applications and demanding individual users alike.
Product Features
Unrivaled Optical Power in its Class – Utilizes multiple high-power blue laser diodes to scale optical power. 
Powered by Blue Laser Diodes - Unlike infrared light, blue light is more easily absorbed by numerous industrial materials. This directly translates to several advantages including reduced power consumption and more compact heat sinking.
Precision-Grade Aspheric Lenses – Each laser module contains four precision-molded lenses, each of which is virtually free of imperfections. Coupled with a vacuum-sputtered multi-layer anti-reflection coating, this design yields superior optical performance and a spectacular power density of 1.5 MW/cm².
Synergy of Power and a Tight Beam Spot – The optical system combines the beams from multiple high-power laser diodes and focuses them to a tight spot. It results in a high power density giving the versatility to engrave diversified materials including stainless steel, tool steel and Titanium.
Lightweight Design Mounts to Nearly any CNC Machine – Featuring a lightweight, Aluminum body that makes the laser weight less than 800 g. As a typical CNC spindle weighs approximately 1.8 kg, CNC machines can operate it effortlessly.
Simple Integration - Can be set-up on nearly any CNC machine since it accepts both analog and PWM CNC signals. 
Instant-On Power – No warm-up time.
High-Pressure Air Nozzle Prevents High Upkeep – With the high-pressure air nozzle, you can clean the lens 10x less often. The pressurized air also speeds up the cutting and engraving process by removing smoke and preventing excessive dirt build-up on the lens. In addition, the directed airflow cools down the working site, resulting in a lack of defects and a uniform engraving contrast.
Integrated Control Electronics – Designed to prevent your laser diodes from dying prematurely, the control electronics are integrated within the laser module. With no redundant wiring, you don't need to worry about dangerous inductance effects. 
Longer Lifetime – Blue laser diodes have longer lifetimes because they don't suffer from random failure and age more slowly at higher temperatures. The typical lifetime of the laser's blue laser diodes is equal to 20,000 hours. In contrast, a lifetime of an average glass CO2 tube laser cutter and engraver equals 3,000 hours.
 
Blue CNC Laser Applications
Stainless Steel Engraving
PLH3D-15W also measures up if you want to engrave stainless steel alloys. In the example of the photo with the knife, we engraved it at 6 mm/s. The 15 W blue laser head can mark stainless steel at 33 mm/s.
Carbon Steel Engraving
You cannot engrave tool steel and high-carbon content steel species with a 6 W blue laser. However, our tests have shown that a 15 W blue laser head can engrave high-speed steel as well as mild steel. In fact, the contrast and precision enable an engravement of a working QR code.
Product Specifications
| Item | Typical Value | Comments |
| --- | --- | --- |
| Optical Power | 15 W | T-ambient = 25°C |
| Center Wavelength | 445 nm |   |
| Working Distance | 4 mm (0.157") | Distance from the tip of air nozzle |
| Beam Spot Width | <180 µm (0.007") |   |
| Dimensions | 167 x 70 x 87 mm | L x H x W, with nozzle attached |
| Mounting Hole Pattern | 77 x 68 mm | M3 (#4-40) or M4 (#8-32) recommended |
| Weight | 790 g (27.8 oz) |   |
| PSU Voltage | 22 - 24 VDC |   |
| Power Consumption | <85 W |   |
| Modulation Input 1 | 0-5 V | Analog / PWM / TTL |
| Modulation Input 2 | 0-3 V, 0-5 V, 0-10 V, 0-24 V | PWM / TTL |
| Max. Mod. Bandwidth | 30 kHz | Recommended 5-10 kHz |
| Operating Temperature | 10 - 45°C (50 - 113°F) |   |
| Air Nozzle Hose Size Standard | 4 mm (5/32") |   |
| Max. Air Pressure | 5 bar (72 PSI) |   |
Product Video - Rapid Engraving and Cutting
Product Video - Single Pass Engraving and Cutting
Typical Engraving and Cutting Speeds with PLH3D-15W
Note: In case you can't find a material of interest in the table below, feel free to reach out to Tomorrow's System through its Material Test Questionnaire.
Material
Operation Type
Thickness
Speed
Passes
Stainless Steel
Marking
N/A
33 mm/s
1
Engraving
N/A
6 mm/s
1
Carbon Steel
Marking
N/A
33 mm/s
1
Engraving
N/A
6 mm/s
1
Review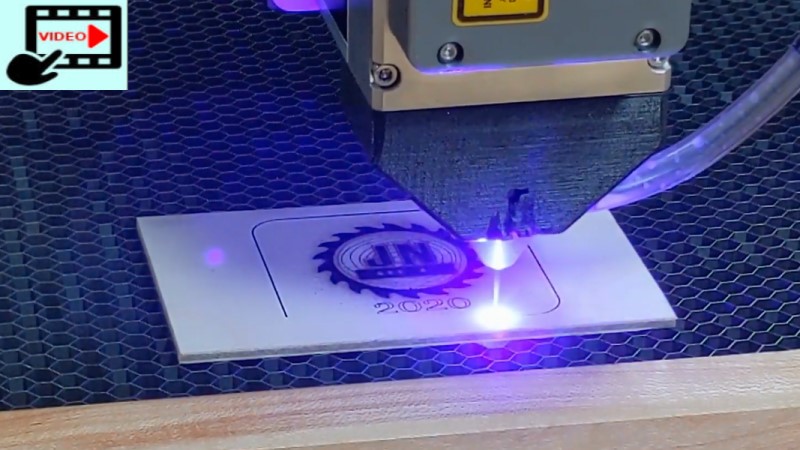 ---

This technology has been developed as an EU-funded research project No. POIR.01.01.01-00-0988/18-00, namely "Development of innovative multidiode cutting-engraving head technology with the application of 450 nm wavelength laser diodes."
Related Glossary Terms
alloys


alloys

Substances having metallic properties and being composed of two or more chemical elements of which at least one is a metal.

computer numerical control ( CNC)


computer numerical control ( CNC)

Microprocessor-based controller dedicated to a machine tool that permits the creation or modification of parts. Programmed numerical control activates the machine's servos and spindle drives and controls the various machining operations. See DNC, direct numerical control; NC, numerical control.