Published
March 23, 2023 - 08:00am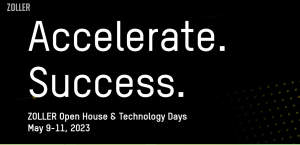 Zoller's fourth annual Open House & Technology Days is May 9-11 at the company's state-of-the-art North American headquarters in Ann Arbor, Michigan.
More than 300 guests attended last year's event, and organizers expect this year's program to attract even more attention, the company says.
Over the span of three days, participants can network and learn from the best in the industry, including Zoller experts, customers, and other industry leaders. They will discover the latest developments in tool presetting, tool inspection, and tool management technology and how the entire process chain of Zoller Solutions can increase productivity and efficiency in a connected and scalable way.
More than a dozen speakers are expected to present during the three-day event, which also includes daily German cuisine and an evening happy hour.
Zoller president Alexander Zoller will provide the keynote address on his vision for success in smart manufacturing at shops of all sizes. Each day will also include tech talks, breakout sessions, and live demos, including interactive demonstrations of the new Zoller Tool Balancing and Heat Shrinking Solutions, Toolholders and the »roboSet 2« 24/7 Tool Inspection Automation Solution.
Among the sessions being offered this year are:
Inspect your way to success
Presenter: Werner Lueken, Director of Inspection Solutions at Zoller Inc.
Roadmap to success with Zoller Solutions
Presenter: Kevin Townsley, Quality Control Manager at Harvey Performance Co.
Taking control of cutting tools
Presenter: Jeremy St. Pierre, Principal Manufacturing Engineering at GKN Aerospace
Zoller Tool Management Solutions: Driver of digitalization
Presenter: Joseph Forsyth, Director of Advanced Manufacturing at Intech Medical
Zoller Tool Management Solutions: Right tool, right place, right measurement
Presenter: Cedric Hasenfratz, National Sales & Partnership Manager at ZOLLER Inc.
Partnering with Zoller to improve production efficiency
Presenter: Scott Volk, Executive Vice President and COO of MetalQuest Unlimited
Smart cabinets: Working more productively and economically with efficient tool storage
Presenter: Cedric Hasenfratz, National Sales & Partnership Manager at Zoller Inc.
WebTMS: The new easy entry into tool management
Presenter: Felix Kanbach, National Service Manager at Zoller Inc.
Road to automation of your shop: Why Zoller Tool Management Solutions are the key
Presenter: Markus Lewandrowsi, Lead TMS Implementation Manager at Zoller Inc.
The connected toolroom: From wishlist to reality
Presenter: Dietmar Moll, Director of Business Development at Zoller Inc.
Industry 4.0 to Industry 5.0: The new frontier for the future of manufacturing
Presenter: Dietmar Moll, Director of Business Development at Zoller Inc.
The Open House & Technology Days event will also feature demos of the entire suite of Zoller Solutions. Participants can learn how to implement the industry's best tools to maximize efficiency and control over their tooling and production processes.
Additionally, every attendee will have the chance to win door prizes, as well as access exclusive, event-only discounts on Zoller Solutions efficiency bundles. Guest entertainment — and the legendary Zoller hospitality — will also be on tap.
For more information or to register, click here.
Related Glossary Terms
arbor


arbor

Shaft used for rotary support in machining applications. In grinding, the spindle for mounting the wheel; in milling and other cutting operations, the shaft for mounting the cutter.

quality assurance ( quality control)


quality assurance ( quality control)

Terms denoting a formal program for monitoring product quality. The denotations are the same, but QC typically connotes a more traditional postmachining inspection system, while QA implies a more comprehensive approach, with emphasis on "total quality," broad quality principles, statistical process control and other statistical methods.

tap


tap

Cylindrical tool that cuts internal threads and has flutes to remove chips and carry tapping fluid to the point of cut. Normally used on a drill press or tapping machine but also may be operated manually. See tapping.