Published
October 15, 2019 - 12:30pm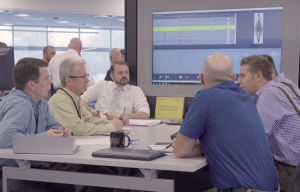 Zoller Inc. hosted its annual Zollerfest on Oct. 2-3 at its North American headquarters in Ann Arbor, Michigan. Zollerfest is an annual technology days and open house event that combines the celebration of the company's German heritage and its presetting, measuring, inspection, tool management and automation technology to create a truly unique manufacturing event. Over 100 guests visited the company across the two-day event, coming from a variety of industry segments ranging from aerospace and defense to job shops, with the goal of learning how Zoller solutions could help bring success to their manufacturing process.

Despite the day's Oktoberfest-inspired décor, complete with staff in Lederhosen and Dirndls, Zollerfest is truly a technology driven event. The company's Industry 4.0 Technology Center houses 39 machines and solutions, including the two latest additions, the Zoller »aralon« and »gemini 2« for crankshaft milling cutter measurement.

These machines significantly increase measurement accuracy and reduce the time spent measuring crankshaft milling cutters, which can in some cases take hours to measure using other methods. With the machines, a crankshaft milling cutter can be measured in mere minutes. This was a highlight throughout the two-day event, and many visitors showed their interest in the benefit of both the »gemini 2« and »aralon«.

There were several keynote presentations at the event. Georg Maerz, vice president of Zoller Inc., started both days by delivering his presentation "The Zoller Experience: Driving Success in Global Manufacturing for Over 70 Years". With the theme of Zollerfest 2019 being "Zoller Solutions: Your Key To Success," it was a fitting addition to have Jerry Busche, president and CEO of PDQ and Impact CNC follow up on Maerz's presentation, as he gave a firsthand account of his experiences with Zoller and how PDQ and Impact CNC have experienced great success by using the company's solutions.

"I had experience with Zoller before and it was amazing when I was using it on the floor," he said. "It was an easy decision for me to buy Zoller. Everyone knows the Zoller name and the world-class product that it is. As customers recognize that you're using [Zoller] to produce your product, they have a confidence level in your company that you'll produce a good product."

In addition to several keynote presentations, the event featured technical sessions at various stations, discussing subjects ranging from basic tool presetting to CAM interfaces to cost per part with Tool Analysis.
Anthony Westfall, TMS technical support engineer at Zoller Inc., demonstrated the company's cost per part feature throughout Zollerfest, and he was happy to be able to present the technology live.

"Cost per part provides a significant benefit for large-scale production facilities," he said. "We were excited to be able to demonstrate cost per part with tool analysis live at Zollerfest, and it was very well received by our guests."

Zollerfest experienced another successful year, and the Zoller team was thrilled by the opportunity to demonstrate all the latest technology and celebrate the company's heritage, laying the ground work for this technology day event series for years to come.
To watch the event recap video, featuring interviews from Michael Stepke and Anthony Westfall of Zoller Inc., Keith Grillot of Anca, and Jerry Busche of PDQ and Impact CNC, click here.