Published
June 01, 2020 - 05:30pm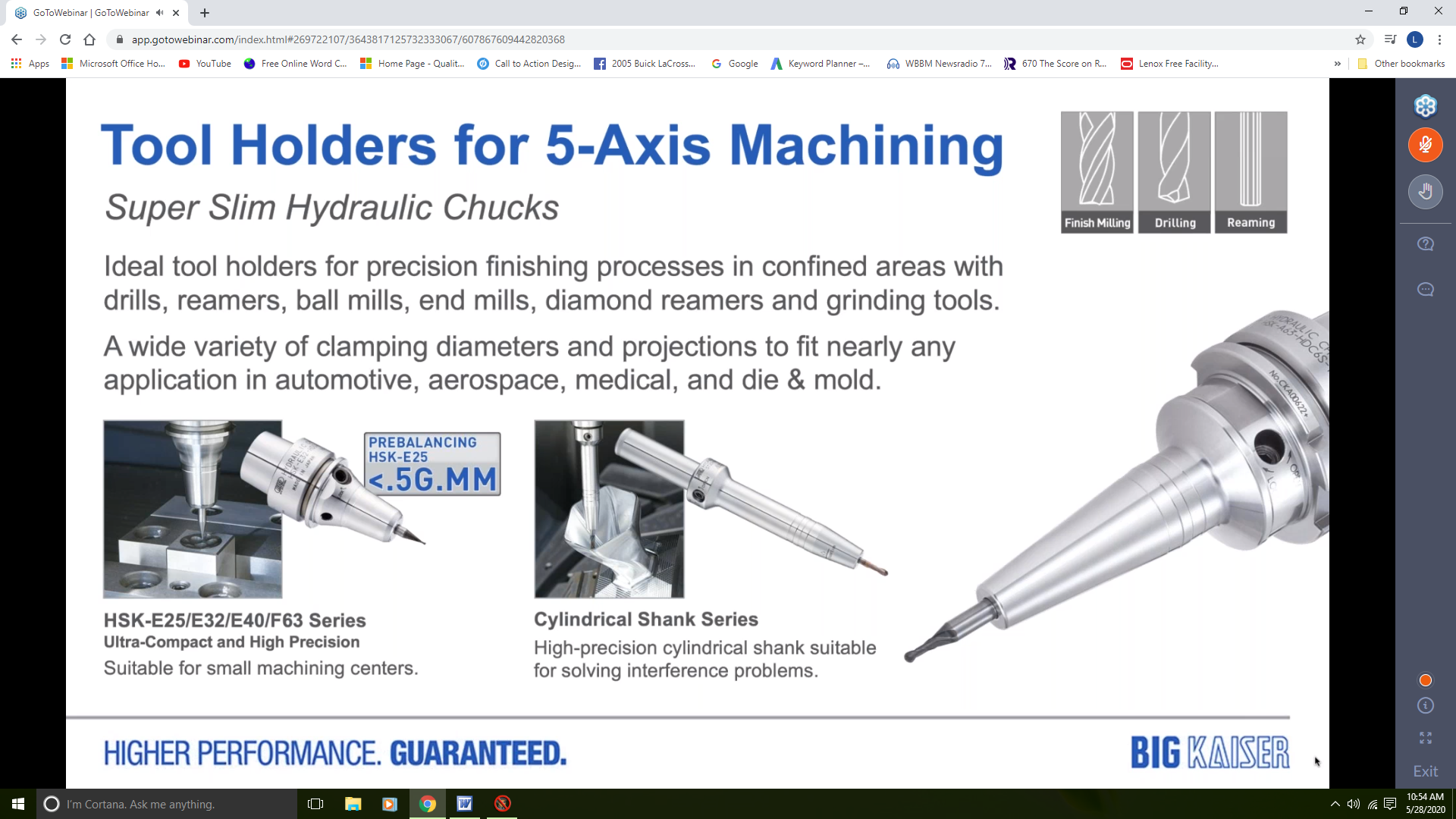 While COVID-19 has shuttered many events, one supplier of high-precision tooling systems was not deterred.
Big Kaiser held its annual Breakfast and Learn event May 28, albeit without the free breakfast, but with a virtual program. Visitors were greeted by company president Chris Kaiser who kicked off the tour from the company's Hoffman Estates, Illinois, facility.
"[Our showroom] is 5,000-sq.-ft. where we exhibit all of our product lines that we sell from boring tools to toolholders, EWE and EWA boring tools, Speroni tool presetters, zero point locking systems, as well as Sphinx drills," said Kaiser.
One highlight of the event was wireless technology. For instance, Matt Tegalman, applications manager and product manager for Kaiser boring tools, showcased a Bluetooth-connected EWE digital boring head that utilizes a company app to calculate necessary adjustments, and even suggest correct feeds and speeds.
Small diameter boring products were also on display. Cory Cetkovic, product manager for Sphinx tooling, detailed the product line that focuses on diameters smaller than 3mm. Parameters of this program include minimum diameter of 30 microns, coolant-through available with diameters beginning at 1mm, 80xD maximum drill depth, and the utilization of modern coatings.
Patrick Cratty, assistant product manager for tooling measurement systems, showcased the Speroni STP Essentia, an entry-level tool presetting and measuring systems that "even with its small size, could still be good on the shop-floor," Cratty says.
Other tour stops included a look at the interchangeability of Big-Plus tool and s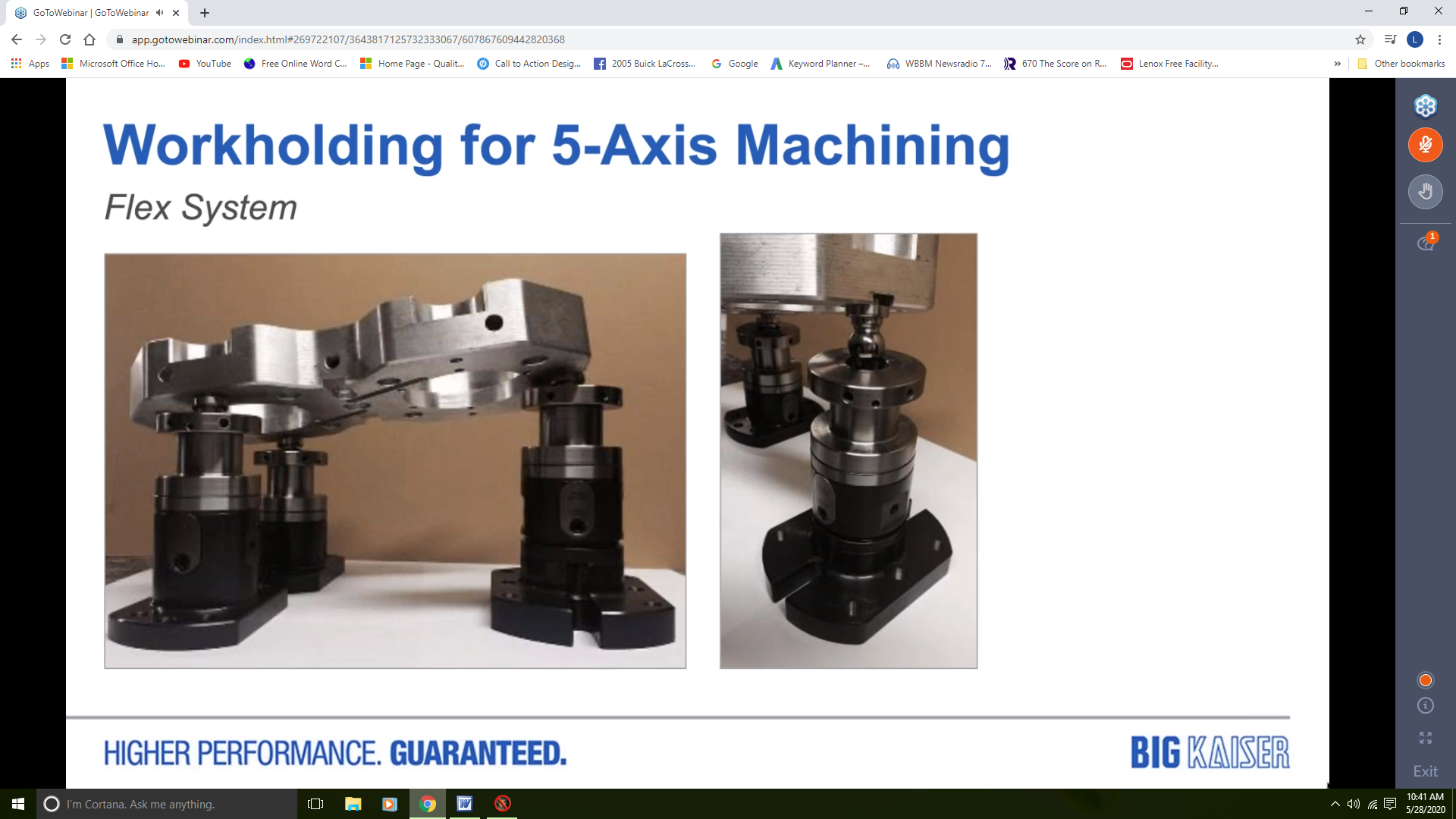 pindle products. Alan Miller, product manager for BIG, introduced a product that meets new ANSI standards and also demonstrated how the technology can be used in standard and Big-Plus products. "The nice thing about Big-Plus is its interchangeability," he said. "With Big-Plus, a standard spindle can accept the Big-Plus tool, the gap will just be a little smaller, and conversely a standard tool and a Big-Plus machine can still accept that into the spindle."
John Zaya, Unilock product manager, discussed workholding products, including for 5-axis machining that "allows users to stack and reconfigure the system as needed for your requirements."
Zaya along with Cetkovic conducted a technical presentation on 5-axis machining that was moderated by Jack Burley, vice president of sales.
"Major decisions about workpieces and machine selections as well as CAM software are all very influential to the overall productivity of 5-axis machining," said Burley. Zaya discussed the different types of 5-axis machines and suggested better workholding options, and Cetkovic detailed trends in cutting tools and tool holders for 5-axis applications.
Five-axis machining can present machining challenges. For instance, a workpiece might be too far from the tooling leading some customers to use longer toolholders or cutting tools, but these solutions might lead to lower feeds and speeds, lower depths of cuts, and chatter-prone cutting operations. Part tilting can be a problem if too-tall of jaws are used.
One solution, according to Zaya, might be Unilock products that elevate workpieces.
Cetkovic discussed toolholder solutions including shrink fit holders and hydraulic chucks. One product highlighted was the Super Slim Hydraulic Chucks for precision finishing processes that "eliminates interference and is ideal for high precision 5-axis machining," he said.