Published
December 28, 2022 - 10:00am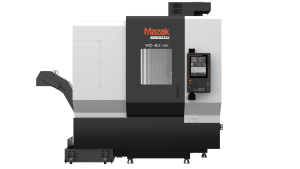 Mazak's new VC-Ez 16X Vertical Machining Center and Mazatrol SmoothEz5 CNC are the latest additions to the company's cost-effective, compact Ez Series.
The new CNC enables the Kentucky-built VC-Ez 16X to process small complex parts via 3+2 or full 5-axis machining. The machine combines a rugged spindle and space-saving design with a full range of options to meet many production needs.
The VC-Ez 16X provides axis travels of 30" in X, 16.14" in Y, and 20.08" in Z (762 mm x 410 mm x 510 mm), which allow the machine to accommodate maximum workpiece diameters of 18.11" x 19.09" tall and weights up to 507 lbs (230 kg).
All VC-Ez models feature a 40-taper, 12,000 rpm, 25 hp (18.5 kW) spindle, and 30-tool magazine. The 5-axis rotary/tilt trunnion table with roller gear cam technology increases part-production capabilities with 360° of C-Axis rotation and -40° to +110° of B-axis tilting capacity. The machine is also equipped with dual lagged ballscrews on each linear axis and incorporates the Mazak MX Hybrid Roller Guide System to ensure rigidity, speed, and accuracy.
Options include a versatile 15,000 rpm, 29.5 hp (22 kW) spindle with 81.13 ft-lb (110 Nm) of torque and a 30 or 50-tool automatic changer, along with a magazine loading station, dual probe kit, and Ez tool station. Plus, various chip-management options – including 213 psi through-spindle and Niagara coolant, filter tray, hinge chip conveyor, and Mazak's Superflow 1,000-psi high-pressure coolant system – aid in reduced maintenance downtime. For hands-free adjustment, operators can control an optional programmable coolant and/or air nozzle system via M-code or from a separate control panel for a 180°+ range of motion and teach a specific angular location for every tool. Plus, the machine is designed to accept standard or customized automation solutions for unattended production and increased productivity.
The Mazatrol SmoothEz5 CNC includes both Mazatrol conversational and G-code programming. The Mazak Smooth Machining Configurator (SMC) provides easy, flexible real-time machine/servo optimization for high-speed cutting applications. SMC combines with Intelligent Thermal Shield (ITS), which manages machine thermal stability to create more consistent parts over long periods.