Published
April 01,2014 - 07:00pm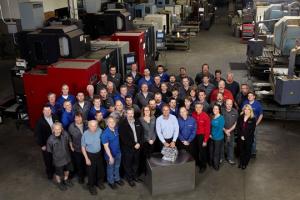 Versevo Inc., Hartland, Wis., a manufacturing and services provider for the cast metals industry, is celebrating its 20th anniversary.
"Whether you have been here 1 month or 20 years, the commitment and determination that goes into a business and making it successful is important," said Terry Moon, founder, president and CEO of Versevo, when addressing employees at a celebratory luncheon. "But it's the collection of all of us that make this work."
Frank Ridenour, CAM engineer and 19-year veteran of Versevo, reflected on his employment and what Versevo has meant to him. "I've always had a strong relationship with Versevo and Terry. I started here directly out of high school, and Terry has been like a dad to me. I have enjoyed watching this company grow into what it is today, seeing continued opportunities arise for employees, the loyalty of Versevo's clients, and the camaraderie displayed within the team."
Project Manager Barry Jinkins added, "I have really enjoyed being a part of the Versevo team. Although it's been a rough road through the recent recession, we've emerged stronger. The fact that we've made it through is a testament to the dedication and drive of the organization." Don Lee, CAD manager, who has been with the company for 16 years, echoed the same sentiment, saying he has "enjoyed the challenges of the job while learning new tasks. There are plenty of opportunities for continued growth."