Published
December 28,2015 - 06:00pm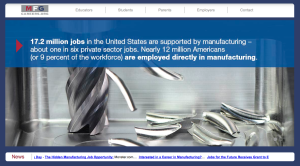 The United States Cutting Tool Institute (USCTI), a leading trade association for the North American cutting tool industry, recently launched Careers In Manufacturing, a website that promotes careers in manufacturing and provides resources for students, educators, parents and manufacturers.
According to a research study done by Accenture for the Manufacturing Institute—Accenture 2014 Manufacturing Skills and Training Study—more than 75 percent of manufacturers report a moderate to severe shortage of skilled resources. The site was developed to better educate visitors, helping to identify training resources for careers in manufacturing, and to provide other information about the opportunities that are available.
"We developed this site to help promote manufacturing as a viable and rewarding career option," said Steve Stokey, USCTI President. "There are many misconceptions about manufacturing. Today's manufacturing provides clean and modern facilities and careers that vary from skilled labor to plant management to engineering."
In addition to the links to industry resources, the site includes blogs with news about manufacturing careers, internships, externships and apprenticeships. The site will be updated on a regular basis to promote Manufacturing Day and other local and regional efforts to support U.S. manufacturers.
USCTI, which formed in 1988, works to represent, promote and expand the U.S. cutting tool industry and to promote the benefits of buying American-made cutting tools manufactured by its members.