Published
December 23, 2016 - 03:45am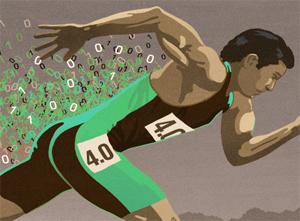 US manufacturers recognize the potential of Industry 4.0 to create value, but they have yet to fully appreciate the scope and magnitude of the opportunity or find the path to success, according to new research by The Boston Consulting Group (BCG). For example, nearly 90% of manufacturing leaders regard adopting new digital industrial technologies as a way to improve productivity, but only about one in four see opportunities to use these advances to build new revenue streams. Many are pursuing isolated initiatives scattered throughout the company, without a clear vision and coordination from the top. These insights are presented in a new BCG report, Sprinting to Value in Industry 4.0.
The stakes are high, as the value created by Industry 4.0 vastly exceeds the low-single-digit cost savings that many manufacturers are currently pursuing. "In an era of stagnating productivity, Industry 4.0 stands out as a means of generating significant productivity gains," says Justin Rose, a BCG partner and a coauthor of the report. "The real value is achieved when manufacturers maximize the impact of these advances by combining them in a comprehensive program."
To succeed, companies must set ambitious goals and capture value rapidly over the course of a multiyear transformation. "Our findings point to the need for US manufacturers to gain a deeper understanding of how they can apply Industry 4.0 and accelerate the pace of adoption," says Vlad Lukic, a BCG partner and report coauthor. "The winners will approach the race to Industry 4.0 as a series of sprints but manage their program as a marathon."
Conflicting Signals Early in the Race
To gain insights about the status of Industry 4.0 adoption by US manufacturers and the challenges they face, BCG surveyed 380 US-based manufacturing executives and managers at companies representing a wide range of sizes in various industries. The survey found conflicting signals:
Industry 4.0 is a priority, but not yet an imperative. Overall, 53% of respondents said that adopting Industry 4.0 is a priority. Respondents in cost-sensitive industries—such as semiconductors, electronics, and oil and gas—are most eager to move forward: 80% said that Industry 4.0 is a priority. Even so, most respondents in the full sample do not regard Industry 4.0 as a competitive threat to their organization.
Value is expected to result from productivity and cost improvements, but less so from revenue growth. Among the respondents, 89% see an opportunity to use Industry 4.0 to improve manufacturing productivity. They expect to capture the greatest value from reducing manufacturing costs (47%) and improving product quality (43%) and operations agility (42%). But fewer see opportunities to generate increased revenue (28%) or develop a new revenue model (13%).
Implementation is underway, but the pace is uneven across technologies. Respondents indicated the highest levels of implementation for cybersecurity (65%), big data and analytics (54%), and cloud computing (53%). They indicated the lowest levels of implementation for additive manufacturing (34%), advanced robotics (32%), and augmented reality (28%).
Obstacles are evident, but solutions are elusive. Respondents cited defining a strategy as the biggest challenge in initiating efforts to adopt Industry 4.0, followed closely by rethinking their organization and processes. With respect to implementing Industry 4.0 across the organization, 40% of respondents cited changing the culture as the biggest challenge. Many respondents consider finding the right talent, internally or externally, to be a constraint. Indeed, regardless of company size, respondents cited hiring talent and acquiring new capabilities as the most critical enablers for Industry 4.0 adoption.
Hands-On Experience Gives Visibility to the Full Range of Possibilities
"Providing hands-on experience is essential for helping managers understand the state of the art in Industry 4.0 and the innovative ways they can apply these technologies in their plants," says Tom Milon, a BCG principal and a coauthor of the report. To support companies in accelerating their digital transformation, BCG has launched its Innovation Centers for Operations (ICO), a network of model factories in France, Germany, and the US. "The ICOs include real production lines and visionary technology demonstrations, allowing for a unique client experience," says Milon. Supported by an array of academic and technological partners, the centers showcase the impact of new technologies on these production lines, offering immersion, experimentation, and training to ICO visitors on all topics related to Industry 4.0.
Companies can apply the insights gained at the ICO to define a strategic plan that guides their transformation effort. Bold ambitions and speed are essential. A cross-functional innovation team should conduct experiments, iterate fast, and rapidly scale up new solutions. Battle-tested program-management techniques can keep the large-scale, multiyear effort on track. Sprinting to Value in Industry 4.0 provides a step-by-step approach to capturing value rapidly while managing a long-term transformation.
A copy of the report can be downloaded at www.bcgperspectives.com.
Source: Boston Consulting Group (BCG)
Related Glossary Terms
centers


centers

Cone-shaped pins that support a workpiece by one or two ends during machining. The centers fit into holes drilled in the workpiece ends. Centers that turn with the workpiece are called "live" centers; those that do not are called "dead" centers.

robotics


robotics

Discipline involving self-actuating and self-operating devices. Robots frequently imitate human capabilities, including the ability to manipulate physical objects while evaluating and reacting appropriately to various stimuli. See industrial robot; robot.