Published
July 27, 2023 - 01:45pm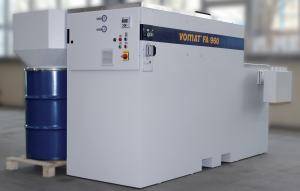 In the manufacture of cutting tools for metalworking, the dovetailing of climate and environmental protection with production profitability is becoming increasingly important.
More and more tool grinders are attaching importance not only to the high efficiency and quality of their machines, but also to sustainable production.
This applies both to tool grinding machines and to peripheral equipment such as coolant filtration. The filtration specialist from Treuen/Germany not only offers customized plant configurations that enable sustainable and at the same time profitable tool production thanks to many design advantages, but also supplies a new air-conditioning technology at the same time that converts excess energy from production and peripheral machines and can thus heat or cool the production hall via the air-conditioning shafts.
In the past, when planning and operating cooling lubricant supply or filtration systems, low acquisition costs and high system availability were important in addition to high performance.
The efficient use of energy, on the other hand, played a subordinate role and was neglected by operators. However, due to rising energy prices and the growing importance of climate protection, increasing energy efficiency or resource conservation is becoming more and more important in industry.
Steffen Strobel, technical sales manager of the machine builder and filter manufacturer Vomat from Treuen, said "Many of our customers in the tool industry want to grind their tools in the most resource-saving way possible. In sales and planning discussions, for example, questions are increasingly being asked as to whether our filter systems can contribute to sustainability in production in addition to high efficiency and quality. Yes, as a manufacturer of innovative coolant filtration, we provide technological solutions that give the toolmaker many impulses for saving, but also for protecting resources and employees."
High-performance coolant filtration technology
For tool grinding, the cooling lubricant system is a crucial factor, as it provides the grinding process with the required lubrication and cooling media in purity and quantity.
Optimally filtered cooling lubricants have a positive impact on the production of cutting tools and make the grinding process more economical, while ensuring high tool quality. When cooling lubricants need to be changed less frequently, this not only reduces downtime, but also lowers costs for purchase, storage, recycling and energy consumption.
Vomat manufactures filter solutions - from individual to large-scale industrial central systems - which separate dirty and clean oil 100 percent in full flow by means of long-life high-performance precoat filters. The purity is in quality class NAS 7 (3 - 5 µm). State-of-the-art filter, cooling and disposal technology - including HSS pre-filters for mixed processing if required - ensure economic and ecological success in harmony.
In addition, Vomat filters require little maintenance and, thanks to their compact design, take up little of the valuable production floor space.
In order to optimize the operation of the ultra-fine filtration plants in terms of energy, Vomat relies on the use of efficient pumps with a high degree of efficiency. In combination with the optimized process control, unnecessary energy losses are avoided.
Vomat plants thus automatically control the filter flow and backwash cycles as required. This extends the service life of the filter elements and saves energy and costs. Compared to conventional systems, which often operate permanently at full filter capacity, Vomat systems adapt to the current production sequence. For example, when grinding machines run more slowly, only the required amount of cooling lubricant (coolant) is filtered.
If a Vomat central system filters several grinding machines and some of them are not in operation, the filter capacity is automatically adapted to the cutting volume. At the same time, less heat is also added to the medium, which in turn requires less cooling power and further reduces energy consumption.
During cleaning in the full-flow process, backwashing as required provides further advantages. This is because with Vomat filters, the backwash cycles are controlled depending on the degree of contamination of the filter elements. As soon as relevant values are reached, the time-delayed backwashing process begins for each individual filter. The other filters continue to provide a continuous supply of clean oil. This fully automatic control and regulation of the filter capacity allows energy and operating costs to be kept low.
Strobel said, "Last but not least, a particular advantage over similar filtration systems on the market is the flexibility of the Vomat technology thanks to its modular principle. Despite their compact design with low space requirements, the machines combine all the technical advantages needed for the respective requirements. On the standard platform with various plant sizes, individual problem solutions up to large-scale plants can be configured with many optional additional components and easily integrated into the respective production processes."
Effective heat recovery for the hall climate
Vomat systems manage the balancing act between productivity and environmentally friendly production. Vomat now combines this high-performance filtration technology with a new type of air conditioning system for entire production halls.
Strobel said, "Thanks to our in-depth understanding of cooling technology in the context of coolant cooling, which is a decisive factor for the success of our filter technology, we have developed a new air conditioning unit."
Vomat engineers drew on this expertise to design an innovative system that converts excess energy from, for example, production and peripheral machines such as grinders, oil extraction systems and machine pumps, enabling it to heat or cool the production hall via air-conditioning ducts with an accuracy of +/- 1 degree Celsius. According to Vomat, this system is up to 60 percent more energy-efficient than conventional air-conditioning systems and thus represents a significant step towards more sustainable and resource-saving production.
Strobel said, "Sustainability also has to do with getting the maximum out of the entire process. Sustainable corporate practice thus requires a holistic approach that includes all areas. With an awareness of ecological and social responsibility and innovative solutions, resources can be conserved and the environment protected. Environmentally conscious and socially responsible business practices bring long-term success and competitive advantages.