Published
September 19,2021 - 10:45pm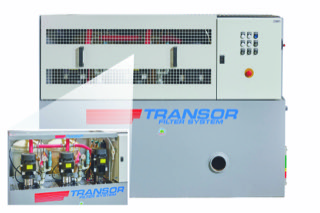 Transor Filter USA shipped a new Series V2 filtration unit to Vollmer of America in accordance with the two company's recent joint marketing agreement. The Transor V2 will be installed and provide a filtration system to serve two saw blade grinding machines at Vollmer's state-of-the-art showroom at its U.S. headquarters in Pittsburgh. The two machines are the Vollmer CHD 270 and CHF 270 – a fully automated service center for the complete machining of carbide-tipped circular saw blades.
The Transor's OMF (One Micron Filtration) system enables the VOLLMER machines to achieve faster cycle times and consistent, accurate finishes on complex circular saw blade tooth tops and faces, as well as saw blade side angles. According to Transor's CEO, Irv Kaage, Vollmer customers will be able to see both these machines and the Transor Filtration unit in action when installation is complete in a couple weeks.
Vollmer produces and maintains circular saw blades and rotary tools. Transor specializes in providing One Micron filtration solutions for companies that produce cutting tools and saw blades.
For more information on Vollmer, phone 412-278-0655 or visit www.vollmer-group.com. For details on Transor Filter USA, phone 847-640-0273 or visit www.transorfilter.com.