Published
October 15,2019 - 09:45am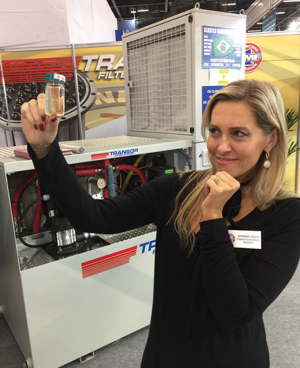 Transor Filter announces that they have surpassed the 25,000 drum mark in shipments of TransOgrind TG-250. Introduced in 2000, this quality grinding oil has become popular for manufacturers of carbide cutting tools due to its performance characteristics and overall value.
"This product is used all over the world," stated Irv Kaage, president of Transor Filter. "Most of our customers choose TG-250 because its low viscosity results in maximum flow through our filter elements, resulting in extremely long filter life. We have some customers that have used the product for over eight years in Transor Systems and the oil still meets spec and performs well."
Transor Filter specializes in providing filtration solutions to those in the cutting tool and EDM industries. The company's One Micron filtration capability and self-cleaning filter elements create and maintain a predictable environment for fast cycle times and guaranteed quality.
Transor Filters feature automated cleaning of the filter elements in a staggered fashion so that clean oil is always being produced, even when the cleaning procedure is in operation. A sludge handling device is also available for total automation of the process.
Related Glossary Terms
electrical-discharge machining ( EDM)


electrical-discharge machining ( EDM)

Process that vaporizes conductive materials by controlled application of pulsed electrical current that flows between a workpiece and electrode (tool) in a dielectric fluid. Permits machining shapes to tight accuracies without the internal stresses conventional machining often generates. Useful in diemaking.

grinding


grinding

Machining operation in which material is removed from the workpiece by a powered abrasive wheel, stone, belt, paste, sheet, compound, slurry, etc. Takes various forms: surface grinding (creates flat and/or squared surfaces); cylindrical grinding (for external cylindrical and tapered shapes, fillets, undercuts, etc.); centerless grinding; chamfering; thread and form grinding; tool and cutter grinding; offhand grinding; lapping and polishing (grinding with extremely fine grits to create ultrasmooth surfaces); honing; and disc grinding.

micron


micron

Measure of length that is equal to one-millionth of a meter.