Published
August 05, 2022 - 07:00am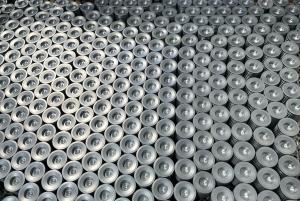 Anyone who manufactures sophisticated precision parts and highly complex assemblies for fluid technology must rely on their supply partners. If the partners also bring an understanding of the procedures and competence in the processes, this can lead to fruitful and long-term connections. 
For example, there is a relevant partnership between the Allgäu-based SFB Group in Babenhausen and Arno Werkzeuge from Ostfildern that has already lasted almost ten years. What started with a parting-off tool,  those tools for cutting off pieces from a main body of stock, now also includes several tool management systems.
"The beginning of our cooperation in 2014 was quite exhausting. We had to demonstrate a lot of competence, flexibility, and stamina," recalled Peter Jehle, a 54-year-old trained toolmaker who serves as a technical advisor at Arno Werkzeuge.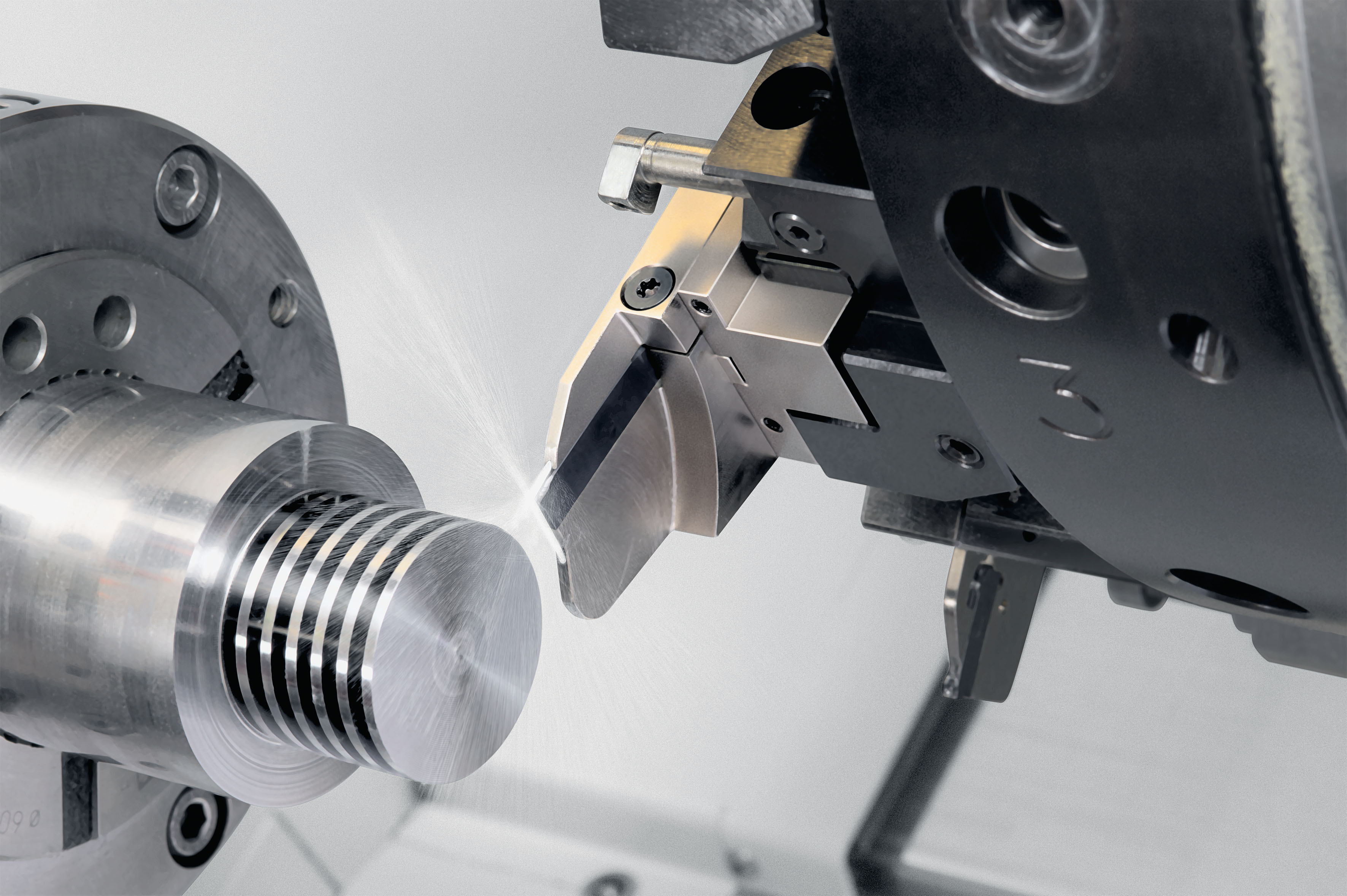 Purchasing manager Ralf Wessel at SFB Group in Babenhausen, said, "At the time, we wanted to optimize our parting-off processes in production and Arno promised us improvements that we wanted to have proven. Mainly because we always want to use one system for all machines."
Five test months later, with intensive on-site support and several quickly implemented tool adaptations, Arno Werkzeuge was set at SFB and its manufacturing subsidiary amo-tec in neighboring Erkheim. 
After another eight years, the SA part-off systems with patented internal coolant supply confirm every day that SFB made the right decision at that time. They are still characterized by a long tool life, optimum chip breaking geometry, and safe chip evacuation as well as low-vibration operation and good surfaces. Nevertheless, such a long period of time is remarkable in fast-moving times.
Reliability required 
SFB Group Managing Director Bruno Hanselka explained why long-term partnerships are important. "Our valve technology and complex hydraulic components form the basis for the intelligent and innovative solutions that SFB has been developing and manufacturing for fluid technology for years. Reliable and fast-reacting partners with an understanding of the process are more important to us than a cent to the second decimal place."
The family-owned company from the Allgäu region has been one of the leaders for complex precision parts and valves in the field of fluid technology for more than 80 years. With around 700 employees at four locations in Germany and Poland, the manufacturing experts offer solutions from a single source as an experienced and reliable partner for long-standing industrial customers worldwide.
Highly complex hydraulic components, hydraulic and pneumatic valves as well as high-quality CNC precision turned and milled parts for demanding industries are produced in great depth of production. Customers come from the aerospace, medical technology, and commercial vehicle sectors as well as the agricultural machinery and automotive sectors. The batch sizes to be produced comprise quantities between 500 and 500,000 units. 
"Our range of variants is very extensive," said Hanselka. "One product can even have 1400 variants. This then requires great flexibility in manufacturing."
Experience and knowledge benefit customers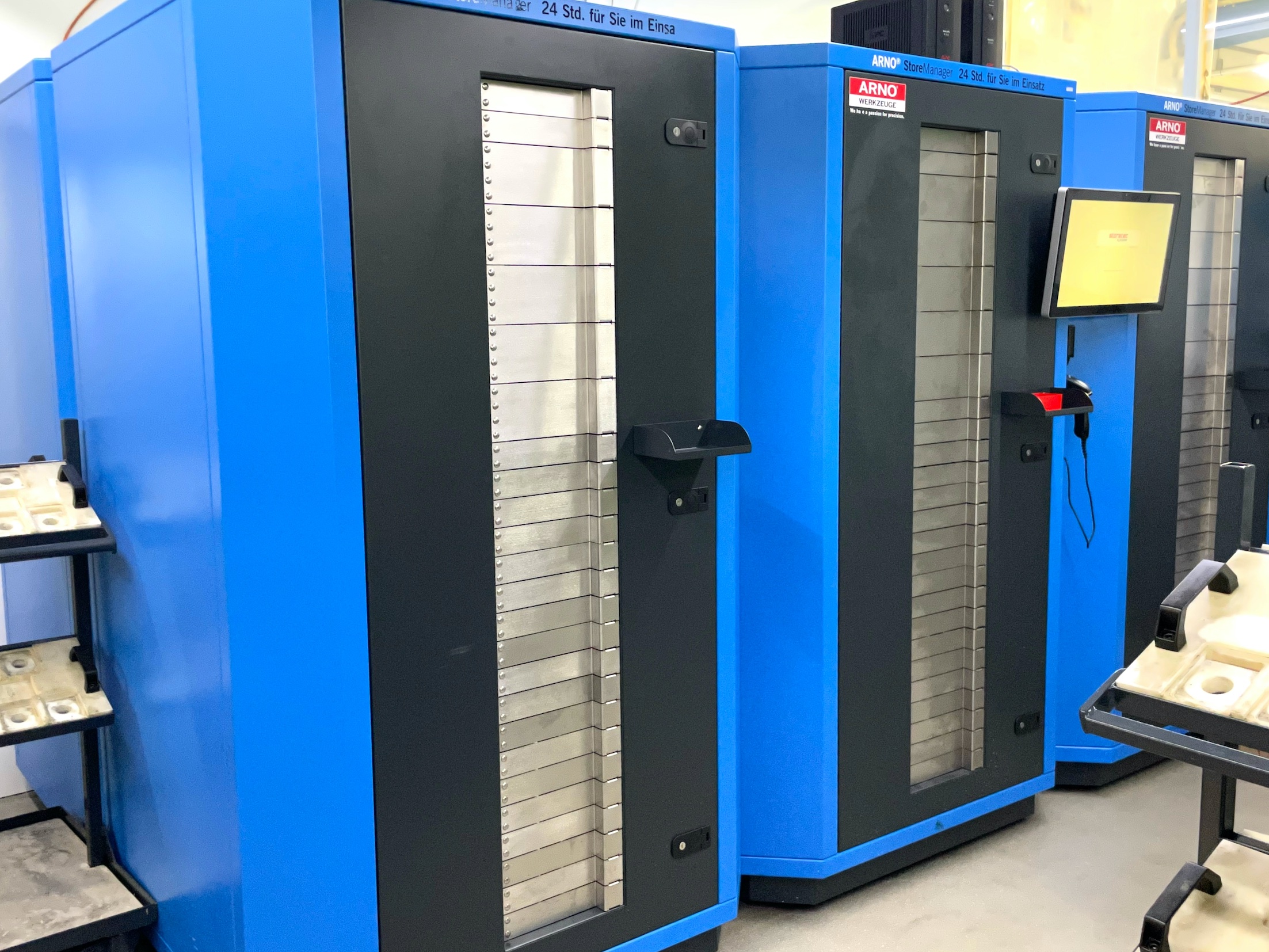 "So, it then also makes sense why a system like our SA part-off system has to fit on all machines and for all materials and products," explained Jehle. "After all, our tools should not add to the complexity."
SA part-off systems with monobloc basic holders, holders for sliding headstock automatic lathes, NC modules, and grooving blades with five different cutting inserts with grooving widths from 1.5 to 10 mm are used. The SFB and amo-tec employees thus process the usual steels as well as case-hardened and highly tempered nitriding steels, stainless steels, non-ferrous metals, and extruded, sintered, and forged blanks. However, it is not only the grooving tools that have made the business relationship so deep and trusting.
Because Arno Werkzeuge is always close to the customer and deeply involved in the processes with its many own technical field consultants and application engineers, customers often benefit from more than just good products. "The experience and process know-how of the Arno people has already impressed us a great deal. There are also one or two practical tips that testify to a deep understanding of our work," Wessel emphasized. 
Jehle added that "Because all our colleagues are always on-site and involved in the processes, we have been building up a lot of experience for years. This is incorporated in regular exchange into our knowledge pool, which in turn all advisors can draw from for the benefit of our clients."
In addition, all Arno advisors also look beyond their area of expertise. Jehle, for instance, was able to help out in 2017 when Wessel approached him about a tool management system. SFB wanted to solve tool dispensing and management in a more modern and space-saving way. 
Jehle's colleague, Simon Lang, as the product manager for tool management systems at Arno Werkzeuge, was able to present the StoreManager tool management systems and their advantages and quickly convince those responsible at SFB and amo-tec.
The advantages of the StoreManager 
For a pilot project, SFB received a StoreManager Pro Master plus extension module as well as a StoreManager Duo Master including Workstation Master in the same year. 
"We first wanted to convince ourselves of the performance and reliability of the systems in practical operation," said Wessel. This is because the need for tool management was much higher for the more than 200 machines in the SFB Group's manufacturing network. 
Wessel said that this was achieved quickly. "With the StoreManagers, we have more space in the hall right from the start, more storage space for the tools, and more time for production." And, production at the SFB Group runs in three shifts on six weekdays. 
Depending on the configuration, the carousel system on the StoreManagerPro contains up to 2,160 storage places on shelves containing 1, 2, 3, or 4 compartments for controlled access, single removal, and return. The software manages removal and returns efficiently, reliably, and smoothly. It also monitors stock levels and prepares documents for restocking.
Tools available around the clock 
Today, the tools are available around the clock at SFB and amo-tec. Gone are the days when tools had to be cumbersomely counted and entered into Excel spreadsheets at the end of the day. Software records this automatically, completely, and without gaps. There are practically no more out-of-stock situations because each tool is assigned to a person and an order. "This creates obligations and traceability but also strengthens every employee's sense of responsibility for the part which is removed," said Lang.
In 2019 and 2020, three more StoreMaster Pros - one Master and two extensions - will find their way to the Allgäu. And, just another year later, a Pro Master model, two extensions, and an extension module of a StoreManager Start are in use. And so the tools for the more than 200 machines are prepared for each order using a set-up sheet. They are then supplied job-related to the machine on a trolley. 
"There are practically no more mix-ups when it comes to tool selection," assured Simon Lang. "The StoreManager finds the right tool based on the scanned codes on the job data sheet and releases the related compartment by a light signal. The hatch door then opens for the operator to remove the tool. On return, the system also finds a suitable empty cabinet compartment."
Users can choose tools freely
Of course, it is not only Arno Werkzeuge's grooving and parting-off tools that are managed by the tool management systems. For Simon Lang, this is not a problem. "Our StoreManager is 'integration-friendly' and also manages tools from other manufacturers safely and reliably. This convinces users regularly, because they don't get into system dependency, but rather can always choose the most suitable tool in terms of productivity."