Published
January 21, 2020 - 08:15am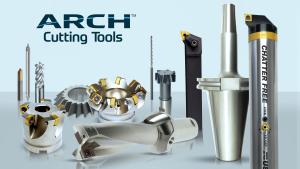 Article from ARCH Cutting Tools
According to the 2017 McKinsey report "Making it in America – Revitalizing U.S. Manufacturing," the manufacturing industry is responsible for 35% of the nation's productivity growth, 60% of its exports and about 70% of private sector R&D spending. These figures point to just how impactful American manufacturing is to the U.S. economy. Visionary American manufacturers have the opportunity to lead the evolution in this industry, which is the basis for the growth/investment strategy of ARCH Cutting Tools (ACT).
What is different about ACT? What set the tool manufacturer apart from its competitors? ARCH Cutting Tools has a unique set of capabilities within the industry. According to the company, ACT views itself as a mid-size full-service American cutting tool company. In addition to a robust portfolio of standard and high-performance cutting tools, ARCH is positioned to collaborate on custom, productivity enhancing cutting tool solutions. But it's not just about finding solutions, it's about creating the right solutions – products – for the customer. Drawing from the vast experience that the company's veteran application engineers provide at the spindle, which allows for custom process enhancements at customer facilities due to the ability to be nimble and responsive. By bringing these capabilities together, ACT sees a 1 +1 = 3 affect.
Customers in the industry are demanding stronger collaboration, technical support, improved performance better lead times and – at a lower cost. That's where the ARCH advantage comes in.
Strategically focused on multidimensional growth, ACT has sought out successful organizations that add capabilities to the group – particularly ones that are masterful at creating custom tooling solutions and are held in high regard by customers. While many large cutting tool companies are retrenching into low touch standard cutting tools, ARCH continues to make invests in custom tooling capabilities. This, combined with ARCH's size and domestic footprint, enables nimble collaboration and tailored tooling solutions. Industry data that shows that cutting tools is a healthy industry, being fueled by the resurgence of U.S. manufacturing. Additional data suggests that, while the standards tooling is growing at 4& to 5%, custom solutions are growing at a 5% to 7% rate, and ARCH is uniquely positioned to meet this trend.
Its standards portfolio will continue to grow in its diversity as ACT continues to design its own tools, based on application performance data, as well as integrating products from acquired companies.
Building on a rich heritage of quality and domestic manufacturing, the company is expanding its standard offering under the trusted KEO brand name. The consolidated/expanded KEO catalog now includes the heritage line of KEO and KEO Milling Cutter products, microtools from what was the Richards Micro Tool product line and a comprehensive new offering of high-performance carbide endmills.
To support our ongoing product development, ACT has invested in veteran industry-leading product managers to advance the product portfolio. These professionals have the critical role of shaping the future of ARCH's tooling offering.
ACT reports that it is excited about bringing these unique capabilities to an industry that is shaping how manufacturing is done in the U.S.