Published
July 13, 2023 - 10:15am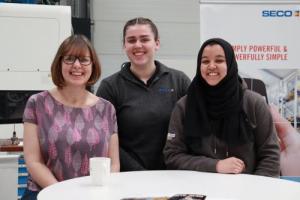 Engineering has long been male-dominated, but Seco Tools is working to encourage more gender diversity.
"This is a great career opportunity, regardless of gender," said Zoe Wood, HR Manager at Seco Tools UK.
There are not enough women in engineering. It's often been seen as a dirty job best suited for men, while even women who may be interested feel they'd have to fight against prejudices to succeed. But Seco Tools is determined to challenge those preconceptions.
While engineering has been male dominated, that's slowly changing. Digitalization means much of the job now happens online, through Computer-Aided Design and Manufacturing Software. And, as social attitudes develop, more women are taking up engineering jobs.
"We know this is a great career opportunity for everybody, regardless of gender," said Wood. Along with HR colleagues in the UK and worldwide, Wood is working to encourage more gender diversity in the company.
"We are and should be trying to encourage more young women to enter the industry because we need more diverse perspectives. Women often have a different way of looking at a problem and coming up with alternative solutions," she explained.
Commitment to gender diversity
The Seco concrete commitment to gender diversity in engineering includes its global Female Talent Program. The company is also a signatory to the United Nations Sustainable Development Goals. Goal number five seeks to "Achieve gender equality and empower all women and girls."
"I'm proud that Seco signed up to the gender equality goal. It's significant for us to make that commitment and say out loud that this is important to us," said Wood.
And, in recent years, Seco Tools UK has been working with local schools, including a local girls' school near its HQ in Alcester, England.
"Through work experience opportunities with us careers teachers started to see this as an interesting option for girls," explained Wood. "Then our engineers got used to seeing more girls wanting to do work experience and invited their friends and family to come."
During her ten years at Seco Tools, Zoe [Wood] has seen a gradual increase in women engineers. Two of those are Aisha Mustafa and Georgia McInerney (pictured above, from left to right, Wood, McInerney and Mustafa).
Here are their stories:
Aisha Mustafa
Engineering apprentice Mustafa commutes for more than an hour each way to and from the Seco site but is more than happy to do so for her dream job. Even delays to her apprenticeship caused by the Covid-19 pandemic didn't deter her.
"I liked architecture, but I didn't want to go to university. I think engineering is quite like architecture, but it meant I could go down the apprenticeship route. I've never let the fact I'm a girl in a male-dominated industry bother me. It just gives me more motivation to prove I'm just as good as them and can do exactly what they do, whether it's getting my hands dirty or being in the office," said Mustafa.
"I can see myself being a part of Seco for a long time because of everything the company has to offer, all the support, how it develops people. When I was interviewed, I never felt that I'd be singled out for being a girl or how I looked or how I dressed. Everyone has welcomed me and treated me the same from day one."
Georgia McInerney
McInerney went through Seco Tools UK's apprentice scheme between 2017 and 2021. Since then, she has worked as an Engineering Technician and is now a Development Engineer. But if she'd listened to the advice she received at school, perhaps Georgia wouldn't have joined Seco at all.
"My head of year tried to put me off taking engineering as a GCSE qualification because I would have been the only girl on the course, and she told me I wouldn't want to be in such a male-dominated environment," she explained. However, with a dad who has been an engineer all his life, Georgia [McInerney] would not be dissuaded.
"My parents always backed me, and I was determined to follow my dream," she said. McInerney did indeed end up being the only girl on the course, and then the only girl at her college, Midlands Group Training Services, but she believes that it set her up well for her future career.
"It's just a fact that currently engineering is a male-dominated job so the earlier I realised and felt comfortable in that environment, the better it was for me. I don't regret my choice for a minute. I really enjoy what I do."
Be brave and step forward
As the mother of a teenage girl herself, Wood is passionate about equal career opportunities. She welcomes the changes happening in Seco and wider society, although feels that things could progress quicker.
"We do get a lot more applications from girls now, and I'm so pleased to be able to say that it's round about 50/50. We have had three male and three female apprenticeships going through the programme in recent years," she said.
"But it's still slower than we'd like. It's one of those things you know is going to be a long-term strategy. We connect with schoolkids that are in year nine (around 13 years old), so you know they're not going to be coming to you until they're at least 16 or 17 years old. But it's planting the seeds in their minds and their parents' minds, and those of their peers, so that they don't get discouraged."
And Wood's message for young girls and other gender diverse backgrounds who are interested in working for Seco Tools is this:
"Be brave and step forward. We don't care if you wear skirt or trousers, have long hair, a mohawk or a buzz cut. If you have a passion for engineering, we want you to be a part of our future. Come and inspire the next generation of engineers to think differently."
Related Glossary Terms
Rockwell hardness number ( HR)


Rockwell hardness number ( HR)

Number derived from the net increase in the depth of impression as the load on the indenter is increased from a fixed minor load to a major load and then returned to the minor load. The Rockwell hardness number is always quoted with a scale symbol representing the indenter, load and dial used. Rockwell A scale is used in connection with carbide cutting tools. Rockwell B and C scales are used in connection with workpiece materials.

computer-aided design ( CAD)


computer-aided design ( CAD)

Product-design functions performed with the help of computers and special software.