Published
November 07, 2022 - 06:00am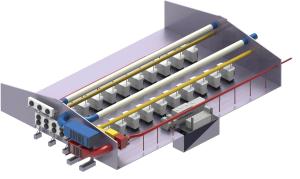 Machine builder and filter manufacturer Vomat from Treuen, Germany, has developed energy-efficient, resource-saving coolant filtration technology and an air-conditioning system for entire production halls.
As displayed at the AMB show in Stuttgart, Germany, the Vomat air handling unit LBG guarantees 100 percent air exchange, and uses excess residual energy from production and peripheral systems to heat a production facility efficiently in winter or cool it in summer.
Lubricant expertise leads to energy production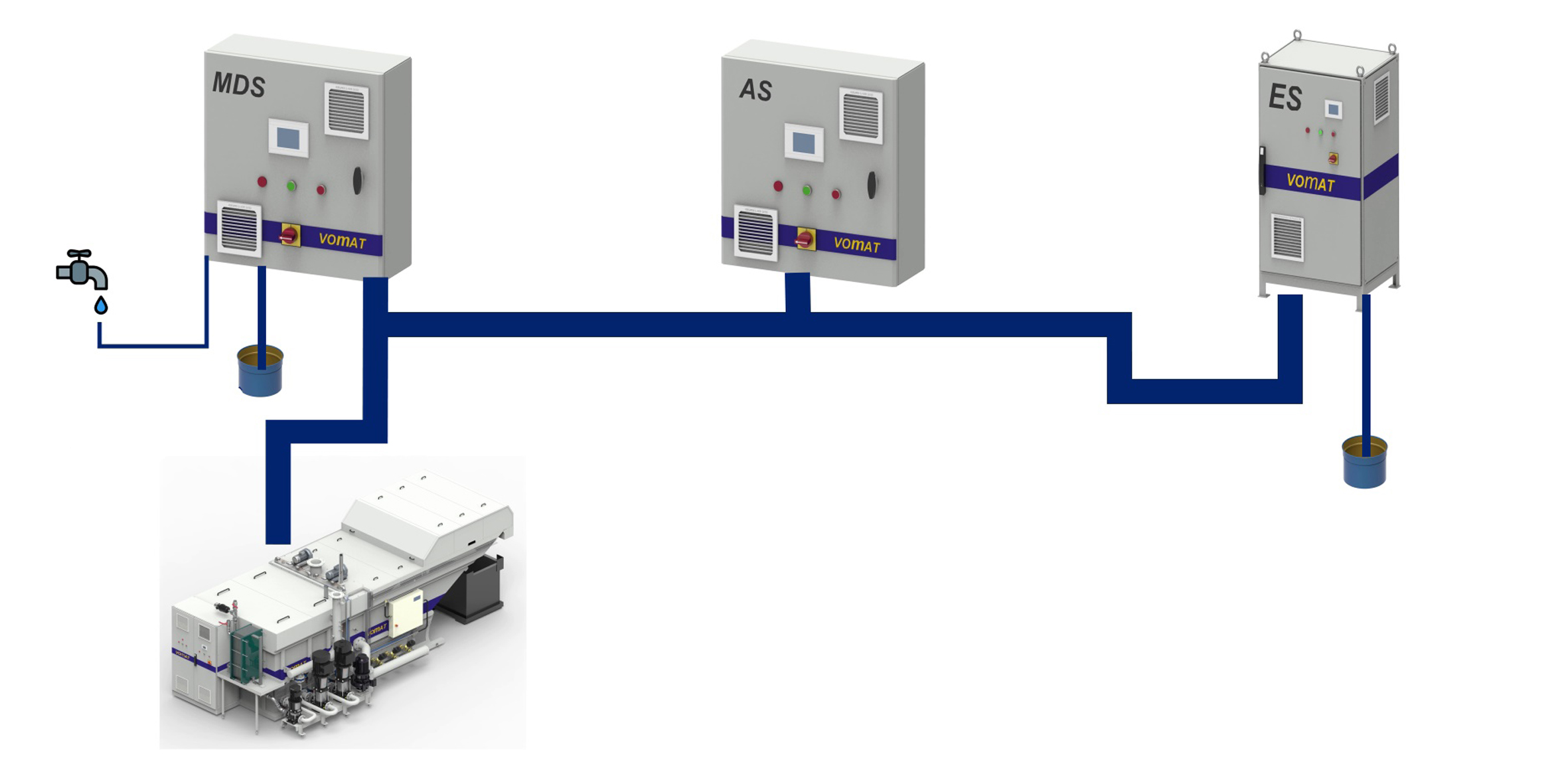 Air conditioning technology is a special topic in connection with cooling of cooling lubricants. Based on this expertise, Vomat developed a new air conditioning unit that converts excess energy from production and peripheral machines, such as grinding machines, oil extraction systems, machine pumps, and can then use it to heat or cool, the production hall via the air conditioning shafts with an accuracy of ±1 degree Celsius.
Steffen Strobel, technical sales manager at Vomat said "Our new full air conditioning system consists of a central exhaust air extraction system and a fresh air supply unit. On the one hand, this ensures 100 percent air exchange with optimum air distribution in the production area without recirculation.
"On the other hand, the system is designed in such a way that exhaust air heat, for example, as well as existing residual energy in heat pump operation can be used for both heating and cooling - and this up to 60 percent more energy-efficient than conventional air conditioning systems." In addition, there is the option of regulating humidity or dehumidifying the air in the rooms to be air-conditioned. Vomat manufactures customized solutions ranging from standard solutions to special complete solutions.
Resource-saving coolant filtration
Resource conservation and energy efficiency are also the focus for KSS fine filtration, in addition to high productivity. Steffen Strobel: "Our systems manage the balancing act between productivity and environmentally friendly production. Because sustainability also has to do with getting the maximum out of the entire process. The bottom line is that Vomat technology saves many resources such as machines, working time, space, energy and raw materials."
To ensure a high level of production and quality - but also to exploit rationalization and sustainability potential - Vomat provides high-performance filtration systems - from individual to central filter systems. Despite compact design with low space requirements, they combine all technical advantages and provide clean oil in NAS 7 quality (3-5 µm) to the grinding system over a long period of time, for example during tool grinding.
In addition to full-flow filtration thanks to special high-performance precoat filters for 100 percent separation of dirty and clean oil, the energy efficiency of Vomat technology is a particular advantage: Vomat systems filter and rinse as required with controlled temperature control. This means that the backwash cycles are controlled depending on the degree of contamination of the filter elements. This extends the service life of the filter elements and saves energy and costs. 
Steffen Strobel: "Vomat systems adapt to the production sequence. For example, if grinding machines are running more slowly, only the required amount of coolant is filtered. If a Vomat central system filters several grinding machines and some of them are not in operation, the filter capacity automatically adapts to the cutting volume. At the same time, less cooling power is required. This further reduces energy consumption."
Water-miscible coolants
The systems for maintaining water-miscible cooling lubricants are also new: For example, the fully automatic mixing and dosing system (MDS), which regulates the defined ratio of water quantity and cooling lubricant concentrate with high precision. In addition, an analysis tool (AS) determines the content of process-destabilizing contaminants during the filtration process, which are then removed via a special extrusion system (ES).
Steffen Strobel, said "Our new dosing system is modular, energy-efficient and compact. The modules can be connected to all common filtration systems on the market and help to significantly increase the service life of cooling lubricant."
Related Glossary Terms
coolant


coolant

Fluid that reduces temperature buildup at the tool/workpiece interface during machining. Normally takes the form of a liquid such as soluble or chemical mixtures (semisynthetic, synthetic) but can be pressurized air or other gas. Because of water's ability to absorb great quantities of heat, it is widely used as a coolant and vehicle for various cutting compounds, with the water-to-compound ratio varying with the machining task. See cutting fluid; semisynthetic cutting fluid; soluble-oil cutting fluid; synthetic cutting fluid.

extrusion


extrusion

Conversion of an ingot or billet into lengths of uniform cross section by forcing metal to flow plastically through a die orifice.

grinding


grinding

Machining operation in which material is removed from the workpiece by a powered abrasive wheel, stone, belt, paste, sheet, compound, slurry, etc. Takes various forms: surface grinding (creates flat and/or squared surfaces); cylindrical grinding (for external cylindrical and tapered shapes, fillets, undercuts, etc.); centerless grinding; chamfering; thread and form grinding; tool and cutter grinding; offhand grinding; lapping and polishing (grinding with extremely fine grits to create ultrasmooth surfaces); honing; and disc grinding.