Published
September 03, 2020 - 06:00am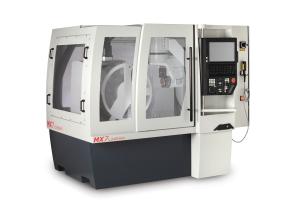 Technology meets grinding specs
Grinding specialty tooling can be a challenge, especially when it comes to supplying tools to customers in demanding industries such as aerospace and automotive. Today, tooling manufacturers must machine tools to cut an evolving array of materials from exotic metals to composites and meet ever-more exacting tolerances and produce more complex shapes and radii.
These markets require companies to not just utilize state-of-the-art equipment, but also possess technical expertise gained over years of experience. Facet Precision Tool is one such company that brings both technology and real-world, primal knowledge to the marketplace.
The company, established in 2015, services industries that require special tools to tackle these challenging requirements, said Jeremy Bunting, managing director of Germany-based Facet Precision Tool. The company produces polycrystalline diamond (PCD), carbide cutting, and coated carbide tools through distributors and direct to customers in the U.S., France, England and Spain, and through distributors in Africa, Sweden, Turkey, Hungary, Austria, Italy and Mexico.
Bunting, who began designing and grinding his first tools at age 14 in his family's cutting tool business, launched Facet with a focus on putting tool quality first, productivity second. He strives to achieve this level of quality through an attention to detail, and a passion for the work.
After drafting a shop-floor blueprint for his new business, Bunting invested in a range of ANCA grinders and software. The company purchased two MX7 Linear CNC tool grinders, an FX7 grinder for fast processing, and an EDGe grinder for PCD tool manufacture, as well as other equipment. The company uses the MX7s primarily for automotive tooling as Bunting said they work well when grinding tools with larger diameters of 20, 25 and 32. Pocket grinding for PCD cutting tools is also done on this model. According to Bunting, the MX7 has a lot of horsepower that grinds tools in a very stable way. He noted that the company uses the FX for high volume carbide tooling because it is an extremely rigid, thermally dynamic, and stable machine that the company relies on to grind highly repeatable cutting tools at higher speeds.
On the MX7, Bunting utilizes an ANCA spindle speeder that allows the company to achieve higher RPMs. He said ANCA adjusted the software to provide a better stable pocket and more accurate pockets in the grinding process.
With the EDGe, which offers a high degree of accuracy when trying to grind a range of geometries, Facet has begun to produce PCD vein tools with its own blanks and cutting tool designs in an effort to refine its processes. Facet also added a vision camera system to the EDGe, allowing for a quick inspection inside the machine to get higher repeatability and better quality versus offloading the tool from the machine, inspecting it, and then loading the tool back into the grinder.
An important component of the ANCA technology, according to Bunting, is the ANCA 3D Simulator program for CNC tool and cutter grinding. He said the CIM3D solves 95% of the company's design problems, and allows it to simulate the grinding process, test and modify the process in an effort to increase efficiency and reduce waste.
The simulator also estimates grinding times, which has helped the company reduce cycle times. In one scenario, Bunting was trying to reduce a 20-minute cycle time to produce a specific tool. After running through numerous simulations, cycles were reduced to 15 minutes per tool, a 25% reduction.
ANCA, a worldwide supplier of grinding machines and accessories, can be reached at www.anca.com, with U.S. headquarters in Wixom, MI, 248-926-4466.