Published
December 16, 2013 - 06:00pm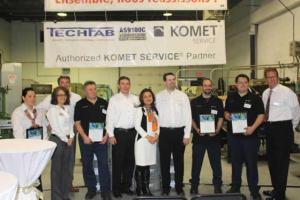 TechFab, Montreal-East, Quebec, officially joined the KOMET SERVICE network with an open-house event and cocktail party for customers, business relations and city officials on Dec. 5, 2013. The company is now certified by Germany-based KOMET GROUP for the refurbishment, re-grinding and manufacture of solid carbide tools.
In attendance were Montreal-East mayor, Mr. Robert Coutu, KOMET of America's CEO for North America, Mr. Jan Pflugfelder and TechFab owners François Cyr and Solange Fresneau. Cyr and Fresneau have grown the company from 15 to over 65 employees since 2010 and integrated two other companies, broadening their service offering in the areas of cutting tools, gundrilling and tooling for aerospace.
The second Canadian KOMET SERVICE partner, after Castelar Tool, Mississauga, Ontario, and the sixth overall partner for North America, TechFab also joins a network of 21 European partners. The KOMET SERVICE network consists of specialists in the fabrication and refurbishment of solid-carbide tools that adhere to KOMET processes and quality standards.
Established over 20 years ago, TechFab specializes in making cutting tools and aerospace tooling and performing gundrilling. TechFab sees its association with the KOMET SERVICE network as an opportunity to further expand its know-how through technology transfer and to broaden its service portfolio, according to the company. As a KOMET SERVICE partner, it will serve customers in the eastern half of the province of Quebec, from the Ontario border to Quebec City and Saint-Georges-de-Beauce.
Related Glossary Terms
gundrilling


gundrilling

Drilling process using a self-guiding tool to produce deep, precise holes. High-pressure coolant is fed to the cutting area, usually through the gundrill's shank.