Published
October 06, 2022 - 06:00am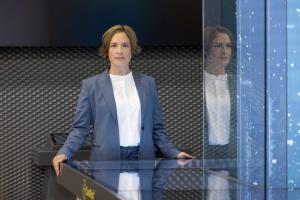 She began her role as president of AB Sandvik Coromant in Sandviken, Sweden, nearly two years ago, but Helen Blomqvist started working at the toolmaker as a research engineer about two decades ago.
Blomqvist transitioned to management positions, including being a senior manager in R&D, and then switched to sales in 2015 before returning to product management and R&D.
In an interview with CTE Editor-at-Large Alan Richter at IMTS 2022, Blomqvist spoke about promoting STEM fields to women, the benefits of a digital production environment for even small and medium-sized manufacturers, 3D-printed cutting tools, the opportunities that electric vehicles provide and how Sandvik Coromant is both growing organically and through acquisitions.
The conversation was edited for length, clarity and style guidelines.
Cutting Tool Engineering: How can STEM fields be effectively promoted to other women?
Blomqvist: I try to be very active with the students in the local area and work as a mentor as well. Right now, I'm a mentor of two young ladies and have mentored several others before. That is something I invest time in to be engaged in the community. But then also here in the U.S., we have a lot of collaborations with the universities where we are located and attract women in different ways. I want to be a role model as well to show that this is a fantastic industry to be part of, including its sustainability and support of the environment. I think that's very inspiring.
CTE: Small and medium-sized manufacturers are often hesitant to embrace Industry 4.0 initiatives. How can they be motivated to weave a digital thread through their operations and gain the benefits it provides?
Blomqvist: A digital thread runs through our production, so we must inspire other manufacturers to do the same. It's also about collaboration and how to take small steps. Even if manufacturers don't invest in a digital solution, many can approach a digital environment through our website and shop online to find our tools. Our people are really good at training and showing how to do this in the best possible way. And it's a win-win for us as well. Finding everything online is a good first step to get them onboard instead of just trying to sell them a tool with sensors. Just trying to find the right level for different customers.
We also offer a consultancy approach. Many of the smaller, medium-sized manufacturers that are interested in that to become more efficient and lower their energy consumption. That's something we support as well. Also, our Sandvik Coromant centers can support them through more digital channels and digital line machining. If they come to us, we can machine components and provide support through our centers in the world. That's a low-entry possibility, training at our centers and receiving our connectivity and knowledge.
CTE: What activities regarding 3D-printed tools are happening at Sandvik Coromant?
Blomqvist: This is an area that is still a trend but it's growing. This is an area we are exploring and investing in R&D. Within Sandvik, we have additive as a separate division where it's a different type of business model. The challenge here, to mention one, is we are very driven by innovation but also look at conventional ways to design and produce a tool. Design for manufacturing is completely different when you have 3D printing. So, this area is also about training and upscaling our designers and our engineers to think about how they have another component, another tool, in their toolbox to be able to design new and fantastic innovations. Part of learning is getting the most out of 3D printing.
CTE: How does Sandvik Coromant plan to address reduced tool consumption in the automotive industry as electric vehicles, which require less machining to produce because they don't have an internal combustion engine with all its machined metal components, become more prevalent?
Blomqvist: This is a very exciting shift in automotive, and we are very active in the electrification area. In the beginning, we saw this shift as more of a threat and now more of an opportunity. When you look at the breakdown of electric vehicles, there is still a lot of machining. Everything is not standardized anymore. So going from the combustion engine with all the standardized manufacturing and then going into this new area there are a lot of possibilities. And not only in the number of tools, but how to optimize them for the customer.
CTE: What is Sandvik Coromant's plan for growth?
Blomqvist: We want to grow organically, of course, as well as grow with our existing customers and acquire new customers as well. Acquisitions are a big part of our growth journey. We acquired CGTech about a year and a half ago and then later ICAM as well. We also acquired Sphynx Tools and are happy to welcome them into our family. They have a fantastic assortment of drills with very small diameters, so truly micro tools. They also have tools for trauma surgery as well. And then Preziss in Spain will complement us in the aluminum automotive area. We have also recently acquired a Chinese company called Yongpu. There's a lot of good innovation ongoing in-house, of course, but then these new companies also add a lot of value to our portfolio.
Related Glossary Terms
centers


centers

Cone-shaped pins that support a workpiece by one or two ends during machining. The centers fit into holes drilled in the workpiece ends. Centers that turn with the workpiece are called "live" centers; those that do not are called "dead" centers.

sawing machine ( saw)


sawing machine ( saw)

Machine designed to use a serrated-tooth blade to cut metal or other material. Comes in a wide variety of styles but takes one of four basic forms: hacksaw (a simple, rugged machine that uses a reciprocating motion to part metal or other material); cold or circular saw (powers a circular blade that cuts structural materials); bandsaw (runs an endless band; the two basic types are cutoff and contour band machines, which cut intricate contours and shapes); and abrasive cutoff saw (similar in appearance to the cold saw, but uses an abrasive disc that rotates at high speeds rather than a blade with serrated teeth).