Published
December 28, 2022 - 07:00am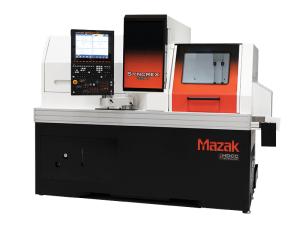 Mazak showcased a new machine type at the PRI Show. During the performance racing industry show held in December in Indianapolis, the company demonstrated the Syncrex 25/7 from its recently released series of Swiss-style machines that encompass models featuring seven, eight, and nine-axis configurations and optimized for precision high-production of small parts.
Syncrex machines feature sliding headstocks and are all constructed on the Mazak High Damping Composite Casting (HDCC). The high-rigidity base provides greater vibration-damping characteristics, less thermal growth, and greater part surface capabilities when compared to a cast iron base machine.
While the Syncrex 25/7 machine handles barstock diameters of 1.000" (25mm) and features 7 axes. Syncrex 9X models deliver added part processing flexibility as they are capable of full 5-axis contouring while using the B-axis tool post.
Mazak's Syncrex 25/7 accommodates a maximum of 29 tools in a standard configuration. Mazak offers a full catalog of modular tool holders allowing their customers the tooling flexibility to meet their part requirements.
Additionally, Mazak offers an optional MT Tablet which creates a twin-screen system. The MT Tablet will allow the operator to work with offline programming systems (ESPRIT or AutoDesk-PartMaker) at the machine to help reduce set-up time and increase production.
Mazak Syncrex machines sport the new Mazatrol SmoothSt and Mazatrol SmoothSt5 controls. Both controls feature the optional Mazak Swiss Setup Assist (MSSA) for fast and easy job setups along with the optional Mazak Dynamic Chip Control (MDCC) functionality. With Mazak's intuitive and user-friendly screens, the customer can quickly and easily touch off tools and prepare the machine for an automatic cycle. Spending less time setting up the machine and more time in production.