Published
October 17, 2017 - 02:45pm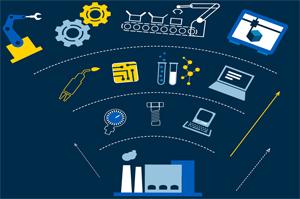 In July 2017 The Economist Intelligence Unit (EIU) conducted a survey, sponsored by Prudential, assessing manufacturers' preparedness and priorities in this era of industrial transformation to Industry 4.0. The survey polled 537 manufacturing executives across eight industry segments, from companies varying in size and geography.
The vast majority of manufacturers surveyed have recognized the need for industrial transformation, with most already taking action. Indeed, 63% have either undergone substantial transformation or are in the process of transforming some parts of their organization. An additional 19% are currently developing a transformation strategy but have yet to reach the implementation phase.
While no single approach is dominant among respondents, 58% of those implementing transformation strategies report increasing operational efficiency as the most common initiative, followed closely by creating new products and services. Over two in five have implemented at least one initiative identified in the survey, such as improving marketing and brand differentiation or extracting greater value from data.
Manufacturers that have undertaken transformation initiatives are already seeing benefits as a result. Three in four report having seen improvements in at least one part of their organization, and nearly half note moderate improvement across their operations. This includes, among others, approximately four in five reporting increased revenue, improved collaboration and communication, cost reductions and better customer experience; while three in four note improved risk management. Over the next three years, respondents expect to see further progress in these areas, with the most improvement predicted in customer experience.
In terms of strengthening capabilities and making companies more competitive, nearly half (48%) of manufacturers surveyed say industrial transformation will enable their organization to increase employee productivity, while others expect more efficient logistics (42%) and expanded market reach in the future. In the next three years alone, over three in four (78%) predict more flexible manufacturing techniques and smart supply chains will result in better products and services. A comparable proportion (70%) also believes new talent will be attracted by fresh training opportunities.
The survey also found that investing in current employees is the most effective way to address skills shortages, but there are significant obstacles to overcome.
More on the survey and its results may be found here.