Published
November 11, 2013 - 06:00pm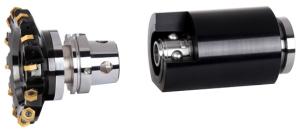 Toolmaker Kennametal Inc., Latrobe, Pa., and Osaka, Japan-based Sumitomo Electric signed a licensing agreement under which Sumitomo Electric will provide and support Kennametal's new KM4X spindle connection to its customers globally. Sumitomo Electric, a supplier of electric wire, optical fibers and cutting tools, has its U.S. headquarters in Torrance, Calif.
"The KM4X enables higher metal-removal rates, which facilitates higher machine tool utilization and reduced cost per part, while increasing the manufacturer's available capacity," said John R. Tucker, vice president and president of the Industrial Business segment for Kennametal. "Having an innovative technology partner like Sumitomo Electric supply the KM4X connection will create a powerful production advantage for manufacturing companies around the world."
The spindle connection has to provide the torque and bending load capacity compatible with machine-tool specifications. Cutting forces, particularly in roughing or machining high-strength materials, generate bending moments that will exceed the interface's limits prior to reaching torque limits. By combining high clamping force and optimized interference levels, KM4X provides extremely high stiffness and bending load capacity for improved performance in machining high-strength alloys and other materials, according to the company.
Related Glossary Terms
alloys


alloys

Substances having metallic properties and being composed of two or more chemical elements of which at least one is a metal.

stiffness


stiffness

1. Ability of a material or part to resist elastic deflection. 2. The rate of stress with respect to strain; the greater the stress required to produce a given strain, the stiffer the material is said to be. See dynamic stiffness; static stiffness.