Published
December 20, 2019 - 01:45pm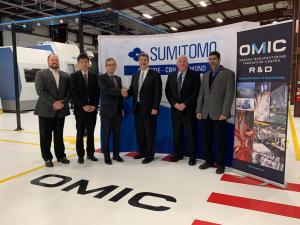 The Oregon Manufacturing Innovation Center Research and Development (OMIC R&D) has welcomed Sumitomo Electric Carbide Inc. as its 30th member. Sumitomo, whose U.S. subsidiary is headquartered in near Chicago, also has other several other U.S. based cutting tool manufacturing facilities, and its main headquarters is in Hyogo, Japan.
Sumitomo Electric Carbide Inc. (SCI) is known for its development and manufacture of cemented carbide, PCBN and sintered diamond cutting tools, wear-resistant tools and its materials, laser optics for laser processing machines and diamond products for electronics parts.
Craig Campbell, executive director of OMIC R&D, said, "Sumitomo shares OMIC R&D's desire for active and engaged members. They are known to have a technology first mentality and they bring unique solutions to the discussion that will help us solve industry's machining challenges. Sumitomo possesses an energy and excitement that fits very well with our hands-on approach to solving problems."
SCI's mission includes providing superior products, technologies and services to satisfy various customers on the global market; and realizing sustainable growth through innovative and advanced technology development. They have about 4,000 employees worldwide.
Kazuyoshi Kimura, president of Sumitomo Electric Carbide Inc. stated, "I am very excited that Sumitomo Electric Carbide USA has now become a member of OMIC R&D, as this collaboration aligns well with Sumitomo Electric Hardmetal R&D in Japan, our parent company. Sumitomo development and innovation of high performance cutting edge material technology through powder metallurgy and super high pressure techniques will contribute in the innovation of manufacturing technologies through the activities at OMIC."
Related Glossary Terms
lapping compound( powder)


lapping compound( powder)

Light, abrasive material used for finishing a surface.

polycrystalline cubic boron nitride ( PCBN)


polycrystalline cubic boron nitride ( PCBN)

Cutting tool material consisting of polycrystalline cubic boron nitride with a metallic or ceramic binder. PCBN is available either as a tip brazed to a carbide insert carrier or as a solid insert. Primarily used for cutting hardened ferrous alloys.

powder metallurgy


powder metallurgy

Processes in which metallic particles are fused under various combinations of heat and pressure to create solid metals.