Published
August 02, 2023 - 09:45am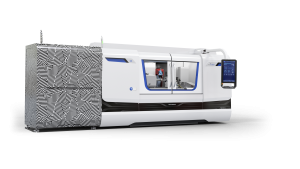 Fritz Studer AG, a market and technology leader in universal, external, internal cylindrical and noncircular grinding, will present a new automation solution on the S31 universal external cylindrical grinding machine at EMO 2023 in Hanover.
The S31 is a cylindrical grinding machine for small to large workpieces in single, small and large series production. It has a distance between centers of 400mm (15.7") / 650mm (25.6") / 1,000mm (40") / 1,600mm (63") and a center height of 175mm (6.9"). It can machine workpieces with a maximum weight of 150kg (330lbs).
In addition, visitors can look forward to other machines on display:
favorit – A CNC universal cylindrical grinding machine for the individual and batch production of short to long-sized workpieces, which the company says is available in an attractive price for the most important applications.
S33 with uniLoad – A CNC universal cylindrical grinding machine the company says it is it's "bestselling machine with unbeatable value for the price."
S100 - internal cylindrical grinding machine is a new ergonomic offering built for the entry-level segment.
S131R with roboLoad – The do-everything machine for every conceivable internal grinding task.
Customer-Oriented REvolution
With the debut of the C.O.R.E. operating system at EMO 2021 in Milan, the United Grinding Group triggered a revolution in machine tool controls.
The advanced hardware and software architecture on which C.O.R.E. is based enables a novel machine interaction concept. But C.O.R.E. is much more than just a revolutionary operating system. It opens up new possibilities for process optimization, networking and controlling and monitoring the production process. It also lays the foundation for the operation of modern IoT applications, opening the door to the digital future.