Published
September 11, 2023 - 07:30am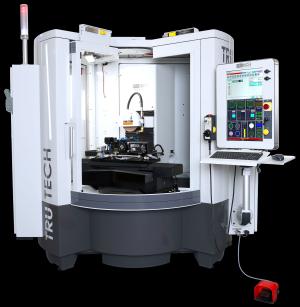 Star Cutter Co. has acquired Tru Tech CNC grinding systems from Resonetics in Nashua, New Hampshire, assuming all design and manufacturing of the Tru Tech high-precision CNC grinding machines currently performed at the Michigan facilities in Mt. Clemens and Lewiston.
Additionally, Star Cutter secures the service, training and spare parts support for Tru Techs' vast installation base across North America and Europe.
"Tru Tech is a strategic purchase that perfectly complements our existing business," said Brad Lawton, Star Cutter Company chairman and CEO. "It expands our technology offering to address earlier operations in the tool grinding process. New capability in blank preparation and cylindrical grinding, as well as Tru Tech's large install base, will create synergies with Star Cutter Company's existing business units. This is a true win-win that benefits both our company and, most importantly, our customers."
A key differentiator of the Tru Tech systems is their ease of use andultrafast set-up while delivering great accuracy and repetitive results. Tru Tech's Perimetric™ grinding technology and CNC Pick-N-Place™ software enable these machines to achieve extremely high accuracy suited for high precision and micro components in the medical, aerospace, electronics, and other industries. These systems are also capable of handling diverse needs from one-piece, small lot runs through lights out production.
Star Cutter's experience in carbide pre-forms, high-end custom tool production, tool grinding, reconditioning services and customer services, backed by a global 700-employee deep and financially strong global organization, ensures continued investment in Tru Tech's people, machine platforms and service capabilities. For the near future, all Tru Tech employees will continue to function as they have at the Mt. Clemens and Lewiston operations with the Tru Tech machines and offerings ultimately becoming part of Star Cutter's Machine Tool business unit.
Related Glossary Terms
computer numerical control ( CNC)


computer numerical control ( CNC)

Microprocessor-based controller dedicated to a machine tool that permits the creation or modification of parts. Programmed numerical control activates the machine's servos and spindle drives and controls the various machining operations. See DNC, direct numerical control; NC, numerical control.

cylindrical grinding


cylindrical grinding

Grinding operation in which the workpiece is rotated around a fixed axis while the grinding wheel is fed into the outside surface in controlled relation to the axis of rotation. The workpiece is usually cylindrical, but it may be tapered or curvilinear in profile. See centerless grinding; grinding.

grinding


grinding

Machining operation in which material is removed from the workpiece by a powered abrasive wheel, stone, belt, paste, sheet, compound, slurry, etc. Takes various forms: surface grinding (creates flat and/or squared surfaces); cylindrical grinding (for external cylindrical and tapered shapes, fillets, undercuts, etc.); centerless grinding; chamfering; thread and form grinding; tool and cutter grinding; offhand grinding; lapping and polishing (grinding with extremely fine grits to create ultrasmooth surfaces); honing; and disc grinding.