Published
April 03,2019 - 04:45pm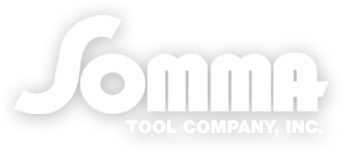 Where did the years go?
We are feeling a bit nostalgic lately while reflecting on the fact that Somma Tool Company was founded eighty years ago!
In 1939, Gerard J. Somma, a recent arrival from Naples, Italy, saw a growing demand for a local, reliable source of screw machine tooling and decided to take the plunge. He incorporated Somma Tool Company in his new home state of Connecticut and never looked back! It must have been a difficult time to start a company with Europe in turmoil and totalitarian threats on both sides of the globe. Family support, outstanding employees, technical knowledge, and attention to detail and quality, however, helped grow the company - which quickly became a key contributor to the war effort and to the precision turned parts industry.
Our range of cutting tools, tool holders and work holders continued to expand through today where we now have a 195 page catalog and serve various industries in the U.S. and around the world.
We are into our 4th generation of family ownership / management, and we have a range of dedicated and appreciated employees, some of whom have been with us over 50 years, as well as others who are recent college grads. We are well-known and depended upon by thousands of satisfied customers, represented by top industrial distributors, and we remain up-to-date with the latest technology.
All this resulting from the solid foundation begun in 1939.
Promotions and activities are scheduled throughout the year with reference to our 80th anniversary. As always, we thank you for your support and business throughout the years.
Please stay tuned!
Related Glossary Terms
sawing machine ( saw)


sawing machine ( saw)

Machine designed to use a serrated-tooth blade to cut metal or other material. Comes in a wide variety of styles but takes one of four basic forms: hacksaw (a simple, rugged machine that uses a reciprocating motion to part metal or other material); cold or circular saw (powers a circular blade that cuts structural materials); bandsaw (runs an endless band; the two basic types are cutoff and contour band machines, which cut intricate contours and shapes); and abrasive cutoff saw (similar in appearance to the cold saw, but uses an abrasive disc that rotates at high speeds rather than a blade with serrated teeth).