Published
March 11, 2020 - 01:45pm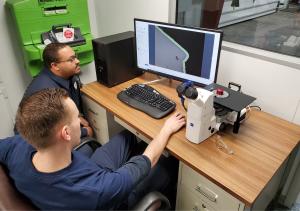 March 11, 2020 - Hermitage, Pennsylvania-based Solar Atmospheres of Western PA (SAWPA) now offers in-house metallographic testing, with its purchase of a Zeiss AxioVert A1 Inverted Materials Microscope, with an accompanying Axiocam digital camera and Zen Core Materials Analysis software package. The investment represents the continued commitment by SAWPA to anticipate and meet customers' needs.
The new Zeiss AxioVert A1 system allows for reflected brightfield, darkfield, polarized and circular contrasting techniques, along with a 50x to 1000x magnification range. The additional Axiocam and Zen Core Materials Analysis software features automated determination of material grain size. This automation of traditionally time-consuming and labor-intensive processes results in repeatability and increased efficiency, as the human element is removed from the characterization method.
Surface contamination, grain size and intergranular attack (IGA)/intergranular oxidation (IGO) determinations will now be performed in-house, providing the customer with expedited lead times and a single source vendor capable of meeting all heat treat and testing needs.
Plant metallurgist, Greg Scheuring, said, "This is a big step toward providing our customers a one-stop shop. Now that we have the microscope and camera, we have the ability to offer value-added, metallography services. The next step will be gaining the necessary agency accreditations and approvals from our customer base to be able to support this objective."