Published
May 07, 2020 - 03:00pm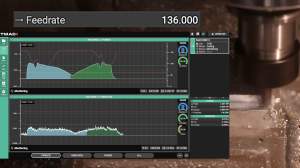 Article by Caron Engineering Inc.
The impact of COVID-19 has changed the way we conduct business and illuminates more than ever the need for manufacturers to assess their processes and implement smart manufacturing technology. The challenges that manufacturers face daily have been only exacerbated by the pandemic. Adding value to machinery to allow unattended operations and improve productivity without relying on operators to perform every function is even more imperative in today's climate.
Reduced availability of skilled workers has been a modern development even before the pandemic. Now, with shops closing down or limiting operations and number of workers permitted on the shop floor, the need to have operations functioning without operator presence, and add value to your current equipment to optimize manufacturing processes, is the direction of the present and future of manufacturing.
Automate and Optimize Setup Procedures. Integrating automation in the tool load process, combined with offline tool measurement greatly reduces setup time, eliminates common data entry errors, and prohibits operators for inadvertently loading the wrong tools into the machine. Caron Engineering has developed a sophisticated retrofit tool identification system that is customized to fit the customer's tool load process and requirements. ToolConnect uses RFID tags embedded in tool holders to automatically transfer tool presetter data to the machine control via their custom control interface. This system reads and writes all tool measurement and tool life information to and from the tag, which is read and processed by a custom read station. The intuitive user interface provides a visual of all tool measurement data, picture, and process flow for the operator. ToolConnect even has the failsafe option of indexing to the correct magazine position to eliminate any margin for error.
Run Unattended. Real-time tool monitoring can optimize the machine tool cutting process to increase shop productivity. By monitoring tool wear in real-time, a system like TMAC (Caron Engineering's Tool Monitoring Adaptive Control system) can react instantaneously to wear and extreme conditions, and stop and expire tools, without the need for operator intervention. This system offers advanced adaptive control capabilities, allowing TMAC to take over the machine tool feedrate to automatically reduce the feedrate with high power cuts and increase the feedrate with low power cuts, to maximize tool life and reduce cycle time (up to 60%). Customers machining hard and difficult to machine materials will realize significant benefits with adaptive control. This system allows manufacturers to run unattended operations, with confidence. By extending tool life, reducing cycle time, and preventing damage from extreme conditions, this system provides an almost immediate return on investment.
Closing the Loop. Eliminating the manual calculation of tool and wear offsets after part measurement saves time and eliminates the potential for data-entry errors that can result in excessive scrap or possible machine damage. Caron Engineering's AutoComp software processes the measurement file from almost any electronic gauging device and automatically calculates and compensates offsets in the CNC control. This happens without any operator intervention. This software also calculates tool life and has many features for customized macro-enabled alerts and data trending.
"In today's economic climate, adding value to your current equipment for more intelligent and automated manufacturing is both essential and cost-effective. Our unique technology interfaces with almost any CNC control on the market, making us a single source solution to optimize productivity on your shop floor", said Rob Caron, President of Caron Engineering.
Related Glossary Terms
computer numerical control ( CNC)


computer numerical control ( CNC)

Microprocessor-based controller dedicated to a machine tool that permits the creation or modification of parts. Programmed numerical control activates the machine's servos and spindle drives and controls the various machining operations. See DNC, direct numerical control; NC, numerical control.