Published
April 28, 2016 - 07:00pm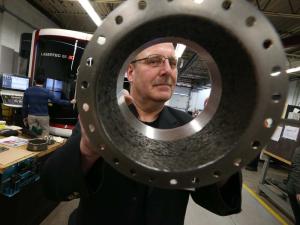 Once word got out that PTooling, a self-described small, family-owned machine shop in Amherstburg, Canada, had added a Lasertec 65 3D laser deposition welding and milling machine to its arsenal, major aerospace manufacturers began knocking on its door.
The Lasertec 65 3D from DMG MORI USA has "opened up the world to us," PTooling President and CEO Marvin Fiebig said in a recent report posted on the Windsor Star website.
"We were just unknown … just a little machine shop, " Fiebig said. "We were just a family-run business with 20 employees and now all of a sudden we have (aerospace company) Airbus phoning us, we have Pratt and Whitney phoning us."
And, according to the Windsor Star report, PTooling also has been contacted by Boeing, Virgin Galactic and Space X.
For more about DMG MORI's Lasertec 65 3D machine, click here.
Related Glossary Terms
gang cutting ( milling)


gang cutting ( milling)

Machining with several cutters mounted on a single arbor, generally for simultaneous cutting.

milling


milling

Machining operation in which metal or other material is removed by applying power to a rotating cutter. In vertical milling, the cutting tool is mounted vertically on the spindle. In horizontal milling, the cutting tool is mounted horizontally, either directly on the spindle or on an arbor. Horizontal milling is further broken down into conventional milling, where the cutter rotates opposite the direction of feed, or "up" into the workpiece; and climb milling, where the cutter rotates in the direction of feed, or "down" into the workpiece. Milling operations include plane or surface milling, endmilling, facemilling, angle milling, form milling and profiling.

milling machine ( mill)


milling machine ( mill)

Runs endmills and arbor-mounted milling cutters. Features include a head with a spindle that drives the cutters; a column, knee and table that provide motion in the three Cartesian axes; and a base that supports the components and houses the cutting-fluid pump and reservoir. The work is mounted on the table and fed into the rotating cutter or endmill to accomplish the milling steps; vertical milling machines also feed endmills into the work by means of a spindle-mounted quill. Models range from small manual machines to big bed-type and duplex mills. All take one of three basic forms: vertical, horizontal or convertible horizontal/vertical. Vertical machines may be knee-type (the table is mounted on a knee that can be elevated) or bed-type (the table is securely supported and only moves horizontally). In general, horizontal machines are bigger and more powerful, while vertical machines are lighter but more versatile and easier to set up and operate.