Published
July 22, 2022 - 09:00am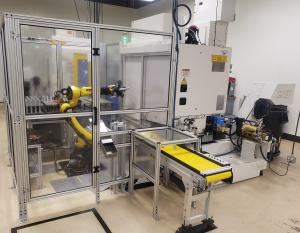 Figuring out how to meet rising production demand can be deceptive. On the surface, it's a simple math problem. If you have one machine on the floor and it makes eight parts per day, and you need to produce 16 parts per day, just add another machine, right?
Meeting demand in a consistent, cost-effective manner is a bit more complicated. Sometimes, it takes a little more due diligence to uncover the best way to increase throughput or meet rising demand.
The operations group at Ultradent Products Inc., a leading developer, and manufacturer of high-tech dental materials and devices, faced such a problem. In 2017, the company sought to increase the production of its industry-leading Valo curing light, used by dental clinicians to cure dental composites, sealants, and various other chemistries.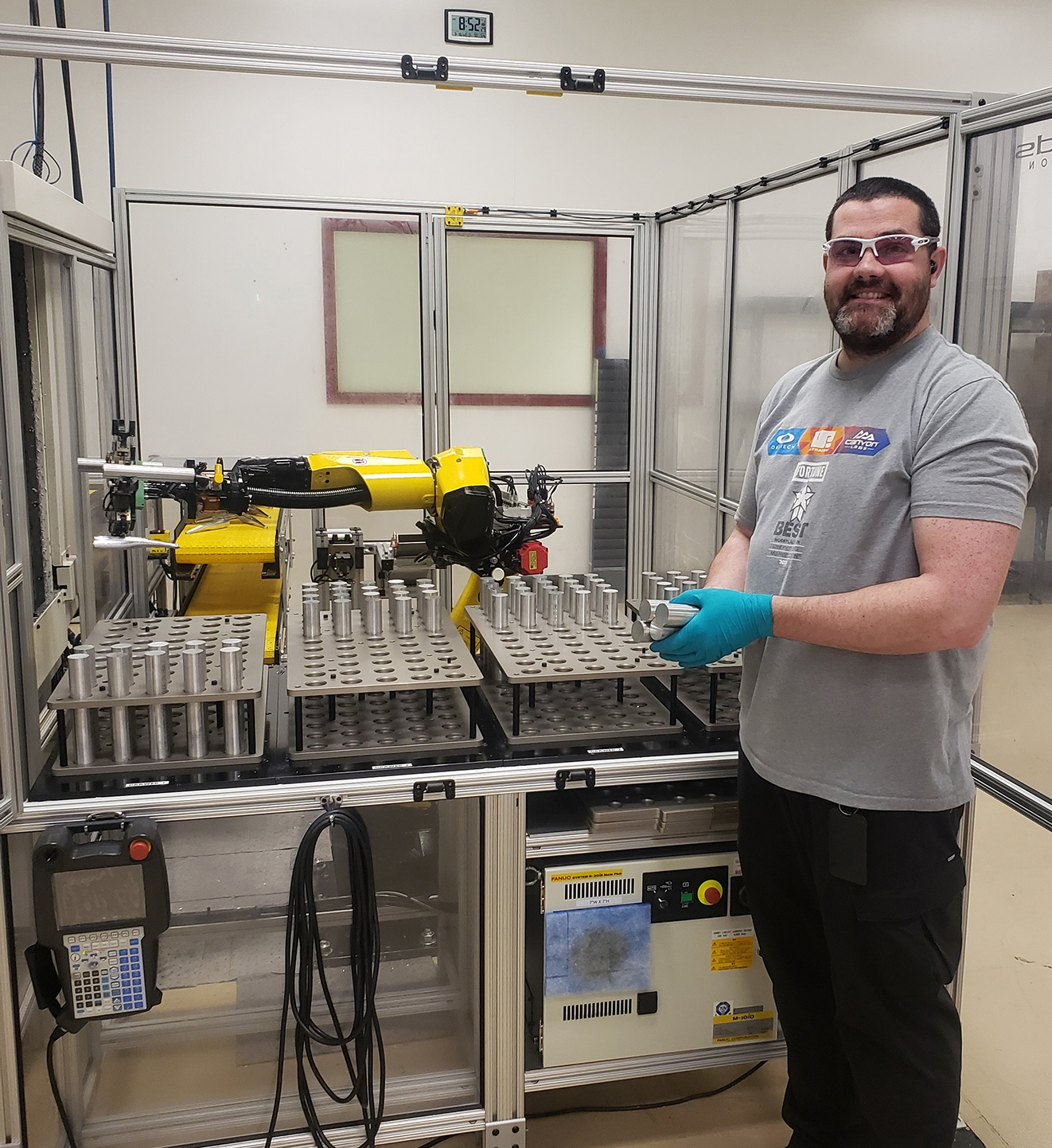 Rising Operations, Rising Cycle Times, Rising Costs
Ultradent's Valo curing lights are complex pieces of equipment, requiring numerous holes, finishes, and different geometries. In 2017, Ultradent required almost 50 minutes and three complex machining operations to produce one curing light housing.
Ultradent's original manufacturing process involved hand-loading raw materials and finished parts; a cumbersome and sluggish process for a company that only had three employees on the shop floor per shift. The manufacturing setup resulted in the occasional spindle crash, hindering operations and output.
"We needed more reliability and faster cycle times," Ryan Umpleby, Sr. CAD/CAM programmer at Ultradent, said. Moreover, the company occasionally had to subcontract to other machine shops to meet rising demand. Not only was that an additional cost, but Ultradent also had to perform additional operations after the fact to remove imperfections left by the subcontractor.
"We never end up fully outsourcing the part because their costs are too high, or they can't match our quality," Umpleby added. Ultradent is needed to reduce the part's cycle time while simultaneously increasing repeatability.
The company reached out to Methods Machine Tools' sales engineer David Snow. The two exchanged project requirements, and Ultradent decided to move forward with two custom automation cells, each comprising of an advanced RoboDrill, a FANUC robotic arm, and raw stock storage. Methods designed the system to hold 60 blanks – uniform pieces of raw material ready for machining.
Embracing Automation
At first, implementing a custom automation cell was a hard sell. Not everyone at Ultradent believed a smaller machine could outperform a larger horizontal machining center, one of the other options the company was considering.
"This small RoboDrill with a robot arm was a little intimidating," Umpleby said. "It's smaller than a horizontal, it's automated, and it's got a robot."
"Anytime you introduce something new, people can be hesitant," added Kevin Marett, an engineering manager at Ultradent.
There was also some concern at Ultradent about the possible steep learning curve associated with robotics and automation. Umpleby was tasked with programming the first automation cell, and at the time, he was relatively new to CNC machining.
Umpleby accessed Methods' vast support network, comprised of application, automation integration, and installation experts. With that support team providing backup and guidance on demand, Umpleby got the cell up and running.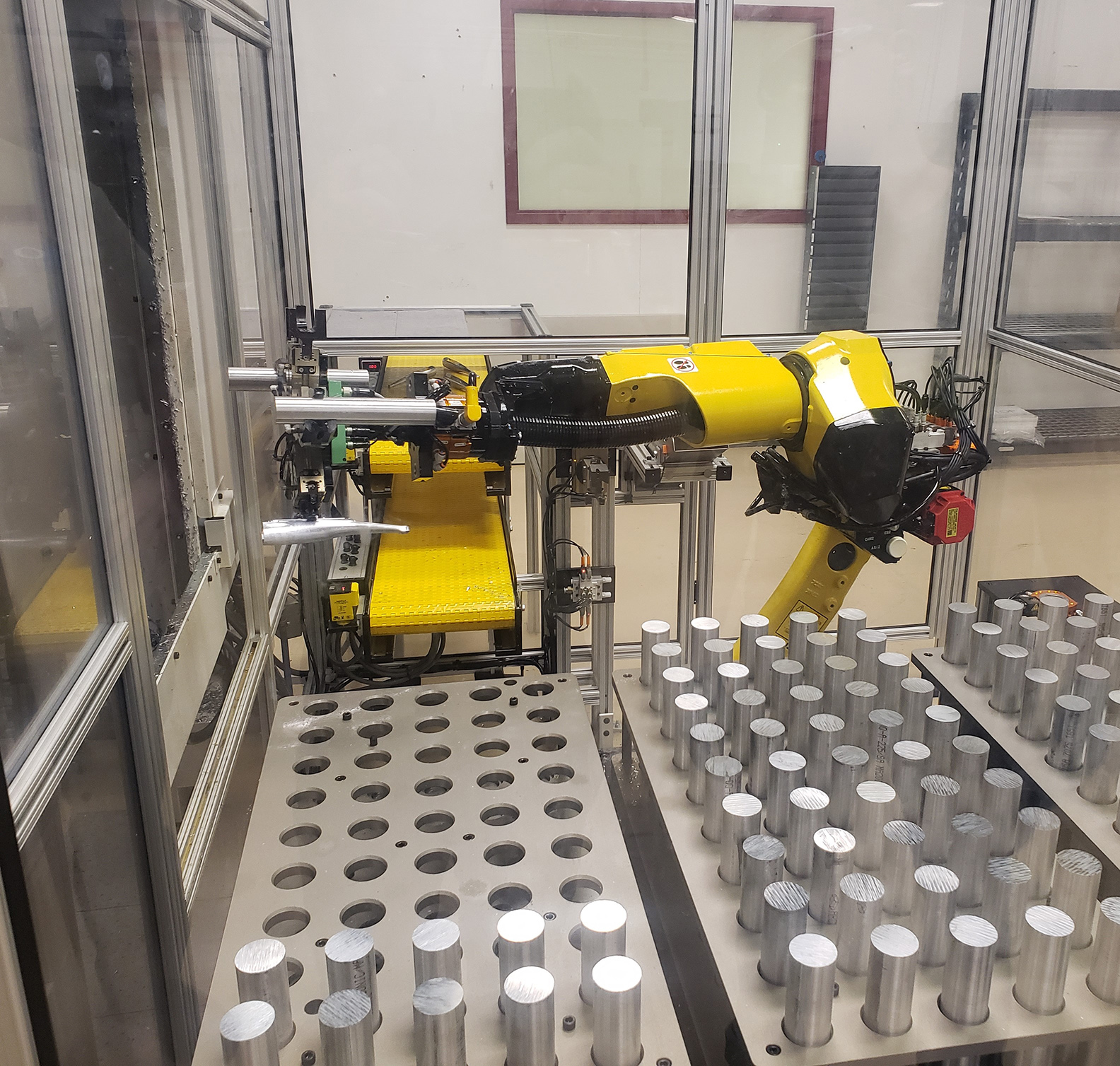 "That was kind of an intimating task for me," Umpleby said. "Between the help of a couple of key people at Ultradent and all the support I needed from Methods, we were able to pull together a fantastic automated machining cell."
The cell provided actionable data points, and precise results, and cut the cycle time for a curing light housing in half – from about 45 minutes down to a 21-minute average. With only three employees on the shop floor per shift, automating the cumbersome process of loading/unloading material significantly improved the workflow.
Support on Speed Dial
With 24/7 operations underway, Ultradent increased its throughput almost threefold while reducing machining costs associated with third-party processing.
"With the help from everybody at Methods, we were able to pull together and were able to come up with fast solutions," Umpleby said.
While the second RoboDrill automation cell was getting the job done on time and under budget, Ultradent needed to expand the system.
The company worked with Methods on designing a larger, third cell that boosted the blank capacity from 60 to 200.
"[Methods' Sales Engineer David Snow] and the rest of the guys have done the best to meet that demand," Ultradent's Marett said. "The Methods' team definitely stepped up to that challenge."
Within a few weeks, Umpleby said, Ultradent had a working concept. After executing the idea, the company could automate an entire production run of 200 curing light housings.
"That was a pretty cool milestone for me, to see Methods pull through that quickly on such a huge change to the cell," he added.
Soon after, Methods added a fourth 200-capacity automation cell, bringing their total to four RoboDrills and four robotic components.
RoboDrill Repeatability in Action
The RoboDrill cells run unattended for 16 hours a day and are completely lights-out on the weekends. In addition to increased throughput and machine uptime, Ultradent has gained the desired repeatability thanks to RoboDrill's rigid construction and precision.
Since implementing the RoboDrill and automation cell, Ultradent's quality assurance team has noticed a significant improvement in the machining accuracy of the curing light housing with perfectly threaded, 12-millimeter blind holes.
"The fact that the RoboDrill repeats on the threading and other features are pretty important to us," Marett said. "As we go through inspection data for thousands of units, we find that features don't move within a half a thousandth of an inch. Part of that is tooling, part of that is how the tooling is held and how the machine is built so it will repeat from position to position."
Utilizing Automation to Achieve Growth
Ultradent did more than just increase throughput machine uptime and improve repeatability – they captured more market share.
During the most tumultuous period of the COVID-19 pandemic, the automation cell, combined with Ultradent's ability to secure raw materials, allowed the company to continue machining. This enabled the company to capture additional market share while competitors lost production time to sick leave or suspended operations.
"We've almost doubled our capacity since we came out of COVID, and we could not have done that without our third and fourth RoboDrill cells for sure," Marett said.