Published
July 11,2022 - 08:15am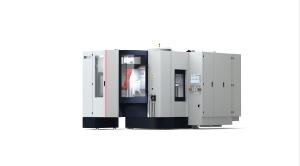 SW North America will host live machining and automation demonstrations on all six days of IMTS, Sept. 12-17, at the McCormick Place in Chicago.
The demonstrations will include live machining of a battery housing for a hybrid automotive vehicle on the BA W08-12 and a gun slide on the BA 322i. As a systems supplier, SW will also be offering information on completely automated systems solutions for automotive, firearms, medical, aerospace, construction, and agriculture industries.
SW's BA W08-12 machines are large workpieces made of aluminum and other non-ferrous materials. The machine features one spindle, two worktables, and a work area of 1500 x 900 x 650 mm on the X-, Y-, and Z-axis. Direct drive technology in all axes provides optimal acceleration and speed (up to 2 g and 120 m/min), and the independent X- and Z-axes increase flexibility and accuracy. Both 4- and 5-axis machining can be performed on the machine.
Efficiency can be increased even further by integrating one of SW's modularly expandable automation solutions, the company says. The FloorRob, TopRob, Robot Gantry, and MobileRob AGV are all reliable automation possibilities to increase productivity and eliminate the ergonomic challenges of large workpieces. The machine is also available as a twin-spindle model with one worktable, or as part of SW's new single-table series with one worktable and one or two spindles.
The BA 322i is designed to function as an independent manufacturing cell that can store enough workpieces for an entire shift. According to the company, the twin-spindle horizontal machining center doubles output while using less floor space and less energy.
The integrated 6-axis robot utilizes the vertical workpiece storage tower to load and unload workpieces in parallel to machining time thanks to the double swivel carrier. The monoblock and box-in-box design are proven SW standards, providing more stability and precision. This plug & play solution can machine a variety of parts, including impellers, brake calipers, scroll compressors, ABS valve bodies, and gun slides.
Related Glossary Terms
machining center


machining center

CNC machine tool capable of drilling, reaming, tapping, milling and boring. Normally comes with an automatic toolchanger. See automatic toolchanger.

parallel


parallel

Strip or block of precision-ground stock used to elevate a workpiece, while keeping it parallel to the worktable, to prevent cutter/table contact.