Published
March 16, 2020 - 01:30pm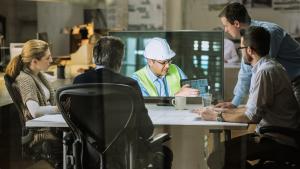 Article by MachiningCloud Inc.
No one can predict the future of manufacturing, but those who supply tooling, software or equipment are closer to the ins and outs of the manufacturing industry than most. This gives them an almost prescient ability to forecast what's coming down the pipe, offer recommendations on what manufacturers need to be successful in these turbulent times and help machine shops and fabricators understand which technologies will bring them the greatest bang for the buck.
Allied for success
One of these is Eric Tope, vice-president of marketing and sales at Allied Machine and Engineering Corp., Dover, Ohio, who noted that Lean will continue to be a key driver of manufacturing success for the foreseeable future. "Lean manufacturing processes are going to be paramount in 2020," he said. "That means the machining industry will be challenged to reduce waste proactively, before production even starts."
A big part of this waste reduction will come through the use of predictive machining tools, he added, which includes advanced CAM software and simulation systems, as well as the digital twinning of their machinery, workholding, and cutting tools. As a result, shops everywhere will increase the demand for easily accessible tooling data.
"It's imperative that tooling manufacturers provide product data that is easily accessible and compatible with current and future software systems," he said. "Simulation and tool management software reduce waste with quicker tooling selection, better inventory control, faster setup times, preemptive collision testing, and more. That's why we're investing resources to assure our customers can access 2D drawings, 3D models, and other relative product data that works seamlessly with the continued advancements of predictive machining software packages."
Tightening the digital thread
Gene Granata couldn't agree more. A product manager at Irvine, Calif.-based CGTech Inc., developers of VERICUT toolpath simulation and optimization software, he listed off a series of industry trends, starting with the digital twins just mentioned. "Accurate toolpath simulation is key to eliminating potential problems in manufacturing, but it requires accurate twinning of the cutting tool assemblies and the CNC machine tool," Granata said. "Obtaining and utilizing these models will continue to be an excellent way for shops to improve their manufacturing operations this year."
Granata also agreed on the growth and importance of Lean principles, which, as he points out, helps shops to "meet strict contractual obligations, produce parts at lower costs, and do more with fewer resources." Similarly, increased connectivity to machine tools will be necessary for shops that wish to move forward, as is tighter integration between departments. "Together with robust process simulation, all help to increase efficiency," he said.
"Simulation produces a wealth of data about the machining process," Granata added. "The tools used, machining times, cutting values, material removal rates, and so much more, data that is also useful for providing factual background for shop scheduling and even job estimating. We've seen that more customers than ever are leveraging this data, and we expect this trend to continue."
Highly efficient
Perry Osburn, president of IMCO Carbide Tool Inc. in Perrysburg, Ohio, suggested that high-efficiency milling (HEM) is on the rise. Because of this trend, the ability to download technical information about cutting tools and other types of tooling is increasingly essential for anyone generating CNC programs. "Shops must have easy access to this information, as well as data interoperability between their different software packages," he said.
Companies such as Machining Cloud are doing a good job as far as tool dimensions, availability, and the like, he noted. As cutting tools become more advanced, however, their proper application grows ever more challenging. "IMCO has been very active in this area, with a wide selection of end mills designed to support modern toolpaths or target certain materials," he said. "It's for this reason that we're currently adding functionality to our website that will allow people to find detailed machining data, with application-specific cutting parameters and recommendations."
Masters of CAM
Osburn suggested that collaboration between the various industry suppliers will also increase over the coming months and years. For example, IMCO has worked with Haimer and REGO-FIX on tooling design, but recently announced a new 3D tool library for use within Mastercam. Ben Mund, senior market analyst at Mastercam developer CNC Software, Inc., Tolland, Conn., is all for this development, suggesting that it's all part of a larger trend that's as old as manufacturing itself.
"Perhaps unsurprisingly, the main trend remains the same as it has been for quite some time, and that's the constant drive to increase productivity through faster and more flexible manufacturing output," he said. "This remains a common goal among all shops, regardless of the industry. In CAM software, we address this with increasingly intelligent toolpaths and constant advances to make the best use of newly emerging machines and tooling."
A far newer trend is manufacturing connectivity, he added, with CAM software a primary platform for an entire digital manufacturing ecosystem. "This is linked to the idea of Industry 4.0, focusing on where CAM software can accept and output information, and how that information can be used and coordinated elsewhere in a shop's process as needed," Mund said. "CAM powers the machine tools, but can also provide a platform for the shop to do a variety of things like metrology, robotics, or digital tool management—all of these pieces add to the rapidly accelerating connectivity in manufacturing."
Delivering productivity
Jeevan Mulgund, vice president of Advanced Manufacturing for Kennametal Inc., Latrobe, Pa., is a firm believer in this type of connectivity. "From a manufacturing perspective, 2020 will be all about accelerating our digital transformation to serve our customers better," he said. "We're looking to take the building blocks of Industry 4.0—digital lean, automation, and data analytics among them—and go faster, so that we can drive improved delivery, quality, product performance and innovation for customers."
Machine data, for instance, will be a huge focus area for Kennametal over the coming year. By connecting equipment to the network in "smart factories," Mulgund noted, Kennametal is gaining enhanced visibility into its manufacturing operations. They are capturing traditional information such as production rates and machine availability, but also measuring non-traditional data like vibration, ambient temperature, and humidity—all the variables that could affect the raw material or manufacturing process. "In combination with new and emerging data analysis tools, this gives us unprecedented ability to proactively solve problems and make operational improvements, which ultimately benefits our customers," he said.
Another example of the company's digital transformation is the implementation of dynamic finite scheduling systems, which allows personnel to use the real-time data streaming from shop floor equipment to determine the most efficient production sequence. "This will help us reduce cycle time and better meet our customers' delivery needs," said Mulgund.
It's not just about improving manufacturing operations or delivery performance, though—it's also about product performance, he said. "The volume and speed of information these emerging digital tools provide will allow us to improve the performance of our existing products and innovate completely new ones that offer even higher productivity. Because of this, I predict our customers will see greater quality and tool life in the future as we implement these digital technologies."
Setting and simplifying
Considering the sheer number of cutting tool, software, and equipment providers, choosing which ones to work with can seem a daunting task. This is why Cedric Hasenfratz, national sales manager for TMS Tool Management Solutions at ZOLLER Inc., Ann Arbor, Mich., predicted that many in the industry will aim to narrow down their partner list over the coming year, selecting those with the best products and support.
"I see our customers doing this now, and to a certain extent, so is ZOLLER," he said. "Machining is such a broad market that there's no such thing as a single-source solution, but there are certainly opportunities to reduce a company's supply base. Cutting back from ten or fifteen providers to even half that number tends to simplify operations, and makes integration between the various systems that much easier."
As others have mentioned, integration is a clear goal for many shops; without it, any attempt to create a digital thread will unravel. But so, too, is automation, especially in the face of a labor shortage that shows no sign of improving. To address the latter, Hasenfratz said shops will continue to expand their use of offline tool presetting through 2020, as it both simplifies and shortens the machine tool setup process, with a few bold shops opting to automate it as well.
"Automation overall is growing quite quickly, and while ZOLLER isn't in the business of machine tending, we can automate the tool management process," he said. "The use of robotic tool setting is on the rise, as are smart storage cabinets and tool management software. What's more, these aren't just for the big shops. I can introduce you to several with fewer than twenty people who've implemented our »cora« collaborative robot assistant, freeing valuable personnel to work on other tasks."
The heart of the machine shop
And last but not least, what about the shop's machine tools? Charlotte, N.C.-based Okuma America Corp.'s president and COO Jim King stated that predictions are often difficult, but the leading technologies he sees for 2020 are automation, connectivity, artificial intelligence, remote services, and additive machinery.
"I think automation will be the number one cool thing that people will look for in upcoming tradeshows," he said. "One of the biggest changes over the coming year will involve incorporating robotics inside the actual machine tool. The release of Okuma's ARMROID and STANDROID technologies, for example, will be something to watch for later this year."
Connectivity is another, although King is quick to point out that the machine tool industry overall has been slow to adopt the collection of data and strong analytics. The result is that many companies are still trying to figure out how to best leverage data to be more competitive. For those that do, however, artificial intelligence offers the ability to turn data into predictive knowledge, letting machinists and engineers know what will happen before they can see it. "Our engineers have successfully developed AI for our machines that detects issues before a major problem can occur," he said. "As we expand our use of data and sensors, having AI as an integral component will allow customers to utilize their assets with more certainty."
Remote services will also be a powerful tool—picture the ability to troubleshoot a machine tool with the assistance of remotely-connected experts. Time is money when the spindle is idle and you're waiting for a service technician, he said, adding that AR/VR will allow an operator to connect with the best people to get machines back online quickly.
Finally, additive technologies are developing quickly, and many companies are trying to find the best use for this technology. "We believe additive will have a critical role in the future of manufacturing," said King. "How we manage the marriage of additive and subtractive manufacturing is a focus for us and others in the market. Like most manufacturers, we have a full line of hybrid additive machines to test the boundaries of manufacturing. We fully expect there will be several more years of development in this area of manufacturing before it becomes mainstream, but rest assured, it's coming."