Published
January 14, 2016 - 06:00pm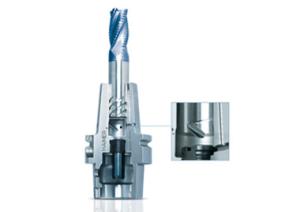 Cutting tool maker SGS Tool Co., Munroe Falls, Ohio, recently signed a licensing agreement with Haimer GmbH, Igenhausen, Germany, for the tool holding company's HAIMER Safe-Lock System, according to a recent news release.
SGS Tool, a market leader for solid carbide end mills in North America, has begun offering their high quality cutting tools with the HAIMER Safe-Lock System. The unique Safe-Lock design in cutting tools and tool holders combines high-precision, shrink-fit clamping with a positive form locking mechanism.
According to Haimer, this prevents round cutting tools from being rotated or completely pulled out from tool holders during heavy machining. The combination of a symmetrical locking tool design with high concentricity and excellent balance of the Safe-Lock system is said to produce a vibration-free machining process, which the company said leads to more efficient metal removal rates—superior to that of conventional milling chucks or Weldon side-lock tool holders.
"In our testing," said David Byrley, SGS Tool's vice president of business development, "we have clearly seen a comprehensive advantage of Safe-Lock in comparison to other systems." Byrley cited that testing and an increasing demand in the North American market that SGS cutting tools offer the Safe-Lock grooves on the shank.
"The Safe-Lock design has been established as the global standard for anti pull-out," Byrley added.
Brendt Holden, president of Haimer USA stated: "We are very pleased to have entered into this agreement with a company the caliber of SGS. The innovative flute geometries pioneered by SGS in our industry lend themselves perfectly for the Safe-Lock System. I am confident that the loyal SGS customer base will welcome this technology as a resource to be used to greatly increase their productivity on the shop floor."