Published
June 21, 2017 - 08:45am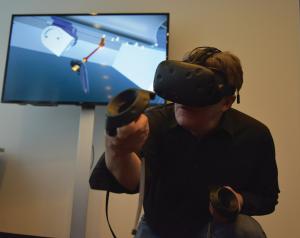 Industrial part cleaning equipment manufacturer Dürr Ecoclean uses virtual reality in training its global service staff to carry out maintenance support on its complex manipulators.
Virtual reality (VR) is a term associated mainly with computer games. However, the rendering and simultaneous perception of reality – and its physical properties – in a real-time computer generated, interactive virtual environment also offers plenty of opportunities in industry. Dürr Ecoclean, as a producer of machinery, systems and services for industrial part cleaning and surface treatment in the automotive manufacturing and supplier industries in addition to a host of other industrial market sectors, relies on virtual space in training its service technicians around the globe. More specifically, this first VR application was developed by Tema Technology Marketing AG to conduct maintenance training on the Scara manipulator developed by Dürr Ecoclean Monschau for its EcoCFlex 3 flexible cleaning cell. In this scenario, the instructor and the trainee may be located thousands of kilometers apart.
For a realistic rendering of all maintenance operations and workflows, a VR model of the manipulator was created from CAD data. This model can be moved in all directions of freedom via slider bars. Every bolt can be slackened and re-tightened in this manner, yet the individual jobs are logically structured and interdependent. For instance, in performing an oil change in the virtual system, the transmission cover can only be re-closed after oil has actually been added. This approach ensures that the various steps will be trained in their correct and full sequence, thus becoming "ingrained." To achieve this, each service operative can move freely on a defined surface area in virtual space, e.g., by walking around the manipulator.
"This development is an important step in ensuring that our global service technicians will be perfectly familiar with their tasks and can provide excellent support to our customers in minimum time," said Michael Förster, CEO at Dürr Ecoclean, in explaining his company's decision in favour of the use of VR.
Related Glossary Terms
computer-aided design ( CAD)


computer-aided design ( CAD)

Product-design functions performed with the help of computers and special software.

manipulator


manipulator

Arm or basic object-transferring device. Hands or gripping devices vary according to application, as do arm design and number of joints (axes or degrees of freedom). See degrees of freedom; effectuating device.