Published
April 07, 2014 - 07:00pm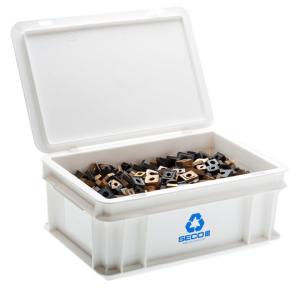 Cutting tool manufacturer Seco Tools, Troy, Mich., released the results of its North American Carbide Recycling Program for 2013. The company collected and processed 125,919 lbs (57,235 kg) of used carbide tools. Of the total, 110,585 lbs (50,265 kg) were returned to Seco Tools AB for processing into grade powder. Over the life of the carbide recycling program, Seco Tools has returned an average of over 10,100 lbs (4,100 kg) of tools per month for recycling.
Partially in response to the program, Seco Tools was named in the August issue of Corp! magazine's list of "Michigan's Best and Brightest Sustainable Companies" for 2013. The reflects the company's efforts to support sustainability and minimize its impact on the environment. "We scored particularly high in community outreach and the promotion of sustainable practices," said Kurt Nordlund, president of Seco Tools North America. "We are committed to sustainability and taking a leadership role on environmental initiatives. That is evident through programs like our Carbide Recycling Program."
In the program, Seco provides manufacturers with small, medium or large storage containers to place within their facilities. Small 1-pint containers hold approximately 11 lbs (5 kg) of carbide, medium 1-gallon containers hold approximately 50 lbs (23 kg), and the large 30-gallon drums accommodate approximately 2,000 lbs (910 kg). As tools reach the end of their useful life they are placed in the containers, which are then collected by Seco. Any carbide products from any manufacturer can be submitted, including carbide inserts, solid drills, solid endmills, wear parts and PCD/PCBN-tipped inserts. Manufacturers are paid at the market rate when the carbide is returned.
In addition to the environmental benefits of recycling, Seco's carbide recycling program helps to address the growing global demand for tungsten, which comprises 75 percent of cemented carbide tools. Up to 95 percent of the material in a typical carbide insert can be reclaimed, helping to ensure the long-term sustainability of the metalcutting industry. Seco says recycling reduces related energy consumption by 35 percent and cuts CO2 emissions by 40 percent.
Major customers taking advantage of the recycling program include John Deere, GE, Haas Automation, American Axle, Cummins Engines, Royal Oak Industries, Caterpillar, MessierDowty and GTTC de Mexico. Manufacturers interested in participating in the Seco Tools Used Carbide Recycling Program can visit www.secotools.com/recycling for more information, or contact Vic Bruni at vbruni@secotools.com.
Related Glossary Terms
lapping compound( powder)


lapping compound( powder)

Light, abrasive material used for finishing a surface.

metalcutting ( material cutting)


metalcutting ( material cutting)

Any machining process used to part metal or other material or give a workpiece a new configuration. Conventionally applies to machining operations in which a cutting tool mechanically removes material in the form of chips; applies to any process in which metal or material is removed to create new shapes. See metalforming.