Published
July 21, 2017 - 07:45am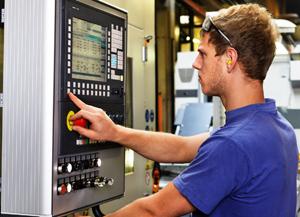 Seco Tools, LLC has partnered with Ferris State University (FSU) in Big Rapids, Michigan, to offer local area engineering students an opportunity to participate in a multi-year internship program at Seco. The program invites the top three engineering applicants to participate for an initial first year internship. Then based on their interest and performance, the students are potentially asked back for a second year. Once a student graduates from the program, Seco often presents an offer of employment at one of the company's several U.S. locations.
Under the guidance of seasoned mentors, Seco interns experience a combination of classroom training and real-world business experience while earning their degree at FSU. The first-year interns take part in technical training and the development of custom tooling. They will also learn to operate machines and accompany Seco applications specialists on outside customer calls. All these facets of the program ensure students receive a comprehensive overview of all their potential areas of interest.
During their second year, interns are often sent out-of-state to shadow an experienced sales rep and make professional sales calls for on-the-job experience. Students participating in the sales portion of the internship program are paid competitive wages during the internship and receive assistance with housing placement and living expenses. Seco also provides a company car to all second-year students.
"We are very proud of our values at Seco," said Andrew Nalian, human resource generalist and head of Seco's internship program. "One of our values is family spirit, and we want to make sure our students are taken care of and have all the tools they need to succeed. Because Seco takes care of everything, the students' parents don't worry about their son or daughter moving to a new city and having to locate and pay for housing. If the intern is participating in the second-year sales program, the parents don't need to worry about a car either, as a company car is provided."
Seco's internship program has been in place for several years, and feedback has been extremely positive. The majority of students who complete the program end up working for Seco.
"We have placed second year students all over the country," said Nalian. "From South Carolina, to Texas and California. Most of these students will have a job offer with us before they even graduate. In today's marketplace, that's a huge advantage."
Engineering students interested in securing an internship with Seco should plan to visit the Seco booth at FSU's Career Fair to be held this October. Inquiries may also be directed to Andrew Nalian via Email at: andrew.nalian@secotools.com.
Information provided by SECO Tools.