Published
October 30,2013 - 07:00pm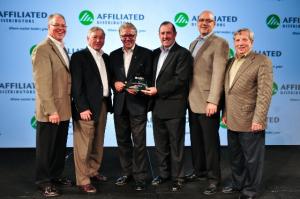 Affiliated Distributors' Industrial Supply Division recently named Seco Tools its 2013 Supplier of the Year for Marketing Excellence. The accolade is part of Affiliated Distributors' annual Spirit of Independence Awards Ceremony that recognizes individual affiliates and suppliers that demonstrate consistent excellence in marketing, performance and/or leadership.
"The industrial landscape continues to get more and more challenging every year," said Mike Parker, director of engineering, marketing and product development for Seco Tools. "Therefore, Seco remains committed to helping its channel partners, which include more than 100 distributors in North America, deliver solutions via a communication platform that accommodates changing marketplace requirements."
According to a statement on the Affiliated Distributors Web site with respect to the 2013 Spirit of Independence Awards," it is important to take the time to honor the companies that go above and beyond, and this year's honorees have been exceptional leaders within the Affiliated Distributors community and make the group and industry stronger."
Related Glossary Terms
web


web

On a rotating tool, the portion of the tool body that joins the lands. Web is thicker at the shank end, relative to the point end, providing maximum torsional strength.