Published
April 13, 2017 - 12:15pm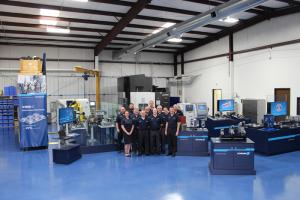 The SCHUNK Technology and Service Center (Tec-Center) in March celebrated its grand opening in Houston. The new Tec-Center will benefit local manufacturers by offering:
Factory trained service technicians on-site with over 30 years experience in installing and servicing all brands of chucks;
Trouble-shooting, repair and maintenance of workholding/toolholding systems and automation accessories;
Extensive local stock and parts inventory available for same-day dispatch;
Expert advice and assistance in identifying manufacturing challenges and implementing solutions;
A fully equipped showroom with demonstration machinery to showcase the latest innovative products.
SCHUNK customers now have a fully equipped facility where they can view a demonstration, receive advice and support for their specific application, or get an expert technician for repair or service. The Tec-Center has a milling machine, lathe, air chuck display and robotic machine-loading display, giving people the ability to see a variety of processes using real parts and machines.
"The feedback from our customers is extremely positive, they are excited to have this wonderful resource close-by for their service, repair and stock needs," said Stefan Kiedels, Senior Sales Manager.
The center is located at 10757 Cutten Road, Building 6, Houston, TX 77066.