Published
September 25, 2019 - 11:15am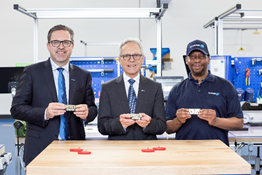 SCHUNK will now be assembling grippers in the US. SCHUNK completed a 40,000 square foot expansion in Morrisville, NC earlier this year, resulting in an additional 19,000 square feet of manufacturing space allowing increased capacity and additional product line assembly. Another 22,000 square feet of additional office and training space completed the expansion. The new facility, combined with investments in personnel and equipment over the next five years, represents another $60 million for the region's economy, and roughly 100 new jobs.
Being able to assemble an extremely versatile gripper line directly in the US means a faster response time and better end results for SCHUNK customers. Having a multitude of variations in stock ensures an ideal solution is always readily available. Milton Guerry, President of SCHUNK USA, stated, "We are pleased to further diversify our offerings in the US to better and more promptly serve our customers' needs. With this addition we are able to better fulfill a critical piece in the supply process."
CEO Henrik Schunk and Chairman Heinz-Dieter Schunk were on hand in May to celebrate the US expansion and launch the US gripper assembly line. Herb Bass, with more than 20 years' experience working for SCHUNK USA, joined the owners in assembling the first grippers. "It has been so impressive to see how things have changed and grown over the years, with SCHUNK always responding and adapting to the challenges customers face." said Bass. According to Jesse Hayes, Group Manager for Automation, the response to the new production line even in this short time has been overwhelmingly positive. "Customers are thrilled with the shortened lead times and ability to customize to their project with standard components that are now on hand and assembled right here in the US."
Related Glossary Terms
numerical control ( NC)


numerical control ( NC)

Any controlled equipment that allows an operator to program its movement by entering a series of coded numbers and symbols. See CNC, computer numerical control; DNC, direct numerical control.