Published
September 14, 2022 - 06:00am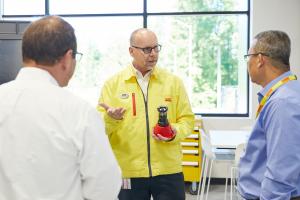 When Sandvik Coromant opened its Center Mebane facility last year in Mebane, NC, near Raleigh, the vision was to use it as a hub for training, R&D testing, customer projects and, most of all, an opportunity for comprehensive customer and partner engagement.
The new center was designed for customers and partners to fully interact with the latest technology and digital machining techniques while working together with Sandvik Coromant experts, including manufacturing specialists, development and process engineers and CAM programmers to develop new ways of overcoming machining challenges.
Supporting that goal, the company recently conducted an in-person automotive transmission machining training event for participants who came from as far away as Mexico.
During the event, Sandvik Coromant's machining experts worked with attendees on breakthrough methods specifically for turning and power skiving while discussing the latest applications and practices for productivity improvement.
"We can't overstate the value of ongoing training as new machining techniques and digital machining capabilities continue to emerge," said Niklas Bylund, Manager, Projects at Sandvik Coromant, who led the event. "Now, especially with the surging demand for electric vehicles, it's more important than ever for production shops and operators to better understand new techniques, not only to get more productivity from their tools but also to decrease their production costs for higher profitability."
Starting with basics on what power skiving is and how to identify when it is a good solution to use, instructors discussed how to design components for manufacturing with power skiving. Attendees learned how to use power skiving to produce gears and splines with shorter cycle times, fewer setups and higher precision, as well as with a smaller machine footprint and lower cost per part. The instruction also included a live power skiving machining demo on Sandvik Coromant's state-of-the-art multitask machine.
For the turning discussion, the session included live green-turn machining demos on Sandvik Coromant's turning center. This training featured hard part turning, where attendees learned how the PrimeTurning™ methodology and use of CoroPlus® Tool Path software can help decrease cost per part while achieving 50% more productivity with multidirectional turning compared to conventional turning.
Wrapping up the training, participants also had the opportunity to take part in a one-on-one personalized clinic to review drawings with Sandvik Coromant specialists and discuss applications for specific parts.
"Hands-on training is extremely beneficial," said Bylund. "By combining classroom instruction and real-world machining, we're able to offer attendees an interactive experience that provides the most benefit for their time."
For more information about other Sandvik Coromant training events, visit https://www.sandvik.coromant.com/en-us/events_training/pages/default.aspx.
Related Glossary Terms
computer-aided manufacturing ( CAM)


computer-aided manufacturing ( CAM)

Use of computers to control machining and manufacturing processes.

numerical control ( NC)


numerical control ( NC)

Any controlled equipment that allows an operator to program its movement by entering a series of coded numbers and symbols. See CNC, computer numerical control; DNC, direct numerical control.

turning


turning

Workpiece is held in a chuck, mounted on a face plate or secured between centers and rotated while a cutting tool, normally a single-point tool, is fed into it along its periphery or across its end or face. Takes the form of straight turning (cutting along the periphery of the workpiece); taper turning (creating a taper); step turning (turning different-size diameters on the same work); chamfering (beveling an edge or shoulder); facing (cutting on an end); turning threads (usually external but can be internal); roughing (high-volume metal removal); and finishing (final light cuts). Performed on lathes, turning centers, chucking machines, automatic screw machines and similar machines.