Published
April 28, 2022 - 07:00am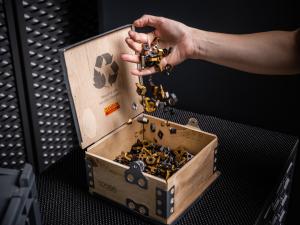 As a sustainability advocate and supporter of global sustainability projects, Sandvik Coromant has developed a set of internal goals called the Make the Shift program that it hopes sets a new industry standard and raises the bar for sustainable metalworking businesses worldwide.
"The metalworking industry is conservative by nature, meaning change can often be slow. We're aiming to disrupt that. We hope that our initiative will motivate other companies in the industry to follow on our path to a more sustainable industry," said Helen Blomqvist, president of Sandvik Coromant.
Not only is a more sustainable metalworking industry necessary from environmental aspects, consumers also want companies to be focused on sustainability, as do current and prospective employees.
Sandvik Coromant has made a commitment to lead the way toward a more sustainable future — a future where sustainability is the result of what the company does and is an integrated part of how business is conducted. This includes making use of new technologies, new competencies and new ways of designing to make the processes better for both the organization and the environment.
To achieve this, Sandvik Coromant has established two leading objectives:
Achieve a more circular business through more efficient recycling, aiming to recycle at least 90 percent of the company's waste and halve the carbon dioxide impact by 2030. Many processes have already been implemented from a recycling program to digital devices like the Green Factories measurement tool that allows Sandvik Coromant to track areas of inefficiency throughout all facilities.
Increase energy efficiency by repurposing or reducing energy spent in operations, aiming for a 2.5 percent reduction in consumption each year.
Cleaning up industry
Being green is no longer a cost of doing business; it is a catalyst for constant innovation, new market opportunities, and profitability.
When crafting a sustainability strategy, one of the most important elements an industrial company must review is its waste. The circular economy doesn't only offer environmental benefits. As soon as Sandvik Coromant's own metal cutting tools lose their effectiveness, as is natural over time, it would be all too easy for customers to toss them away and render them unusable. However, the materials used to make those tools remain valuable.
About 95 percent of a used carbide insert can be recycled. Of this carbide, tungsten makes up around 75 percent. Making new tools from recycled solid carbide requires 70 percent less energy than producing with virgin raw materials. Production is also more sustainable, and using recycled materials emits 40 percent less carbon dioxide compared with starting from scratch.
Circular adoption addresses both global sustainability challenges while taking care of an issue that few customers desire to manage — waste.
Overseeing the entire life cycle of a product, like the tools manufactured and sold by Sandvik Coromant, gives businesses greater control of their assets. This control means a company can effectively review its costs while also helping its customers who will benefit from selling used products, creating a supplier relationship that does not cease once the initial purchase is complete.
So how does it work?
As part of Sandvik Coromant's own global recycling process, used carbide tools are collected from customers and sent to the Wolfram Bergbau and Hütten recycling plant, located in Austria. There, recycling managers complete an X-ray fluorescence analysis using a scanning system, which determines the make-up of the received tools. After an initial crushing, the tools form a carbide powder. This powder undergoes chemical purification to retrieve materials that have the same properties as virgin tungsten.
Additional elements in the cemented carbide are also managed sustainably. For example, cobalt retrieved from the tools is sent to a third party for recycling. Carbide tools from all manufacturers are accepted into Sandvik Coromant's recycling program, regardless of size, industry or location.
Related Glossary Terms
lapping compound( powder)


lapping compound( powder)

Light, abrasive material used for finishing a surface.

metalworking


metalworking

Any manufacturing process in which metal is processed or machined such that the workpiece is given a new shape. Broadly defined, the term includes processes such as design and layout, heat-treating, material handling and inspection.