Published
October 04, 2023 - 07:30am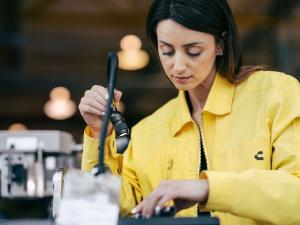 Driven by a shared passion for engineering and problem-solving, Sandvik Coromant is united with its customers and partners in the pursuit of innovation and improvement. This spirit of collaboration and progress inspired the quest for a new brand identity geared toward today's and tomorrow's digital demands and encapsulates the essence of its broader approach and extensive range of offerings.
"We firmly believe that success is not solely measured by business results but also by our positive influence on our communities and the world at large. And we wanted an identity that truly captures that and the essence of our organization's values and aspirations," said Helen Blomqvist, president at Sandvik Coromant.
The new brand identity reflects the commitment to innovation and sustainable progress. Integral to the new identity is a mindset called manufacturing wellness, which is highlighting the value of shaping resilient, thriving, sustainable manufacturers that positively impact their surroundings.
Recognizing the ever-changing landscape of its industry, Sandvik Coromant has strategically transformed its operations in recent years, emphasizing applied knowledge and cutting-edge capabilities.
Sandvik Coromant provides unparalleled support, equipping its business collaborators with the necessary knowledge and advanced technology required for healthy manufacturing habits and the creation of sustainable businesses.
Manufacturing wellness encompasses the spirit of solid and successful manufacturing businesses that not only focus on success in their operations but also contribute positively to people and societies.
"Manufacturing wellness serves as a compass guiding us toward a future where resilient, thriving enterprises and sustainability go hand in hand. By adopting this approach, Sandvik Coromant aims to foster an environment of healthy manufacturing habits and facilitate the development of sustainable businesses," Helen continues.
Touchpoints that carry the Sandvik Coromant brand, like the website, newsletters, facilities, and Sandvik Coromant Centers, as well as all packaging, will gradually be updated with the new identity.
Related Glossary Terms
centers


centers

Cone-shaped pins that support a workpiece by one or two ends during machining. The centers fit into holes drilled in the workpiece ends. Centers that turn with the workpiece are called "live" centers; those that do not are called "dead" centers.

shaping


shaping

Using a shaper primarily to produce flat surfaces in horizontal, vertical or angular planes. It can also include the machining of curved surfaces, helixes, serrations and special work involving odd and irregular shapes. Often used for prototype or short-run manufacturing to eliminate the need for expensive special tooling or processes.